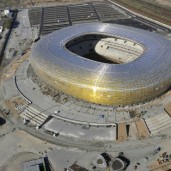 PGE Arena Gdańsk, previously called the Baltic Arena is one of the venues for the UEFA Euro 2012. Three group matches and one quarterfinal are to be played here.
The stadiums' exterior is designed to resemble amber which has long been extracted on the Baltic coast.
Its location outside the territory of the shipyard is supposed to indicate the direction of the future development of the city. Due to a smooth process of extension of the Centre towards the "Young City" the new stadium will be situated in the middle of a triangle formed by the Old Town, the shipyard and the airport, joining these three important city hubs together.
Country: Poland
City: Gdansk
Sports Club: KS Lechia Gdansk
Capacity: 44 000 spectacles
Dimensions: 236 x 203 x 45 metres
Area of the plot: 33,9 ha
Usable area: 36 600 m2
Design: RKW Rhode Kellermann Wawrowsky
Construction Time: 2008 – 2011
Cost: 645 million PLN