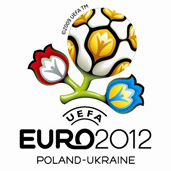 As UEFA president Michel Platini warns Ukraine that time is running out to complete its Euro 2012 preparations, the co-hosts announced today the opening date for the much-delayed Lviv stadium.
Lviv city authorities confirmed it will open next August, reports BSANNA News. Two major football matches would be held in the 33,400-capacity venue before the Euro 2012 competition that is also being staged in Poland.
The new-build venue was one of UEFA's chief concerns earlier this year, along with the rebuild of Kiev's stadium. Construction of the stadium started in January 2009 but has been beset with delays.
UEFA president Michel Platini issued an ultimatum in the spring, telling Ukraine organisers that the country could be stripped of hosting rights unless work accelerated on the projects. UEFA only finalised the match schedule for the tournament in October.
Yesterday, Platini urged Ukraine to speed up its tournament preparations.
"You have only a year and a half left. But there is still much to do and many obstacles to overcome," Platini said in his address to Ukraine's football federation congress, according to an Interfax report.
"This is possible only under one condition, and this condition is unity."
Platini reportedly urged stakeholders involved in the Lviv and Kiev projects and across the 2012 project to work in harmony to deliver a great tournament.
His comments come less than a week after the UEFA Executive Committee met to discuss the Euro 2012 project and announced were currently no major concerns over the completion of stadia.
UEFA secretary general Gianni Infantino said: "In Ukraine, two stadiums are basically finished – Kharkiv and Donetsk – Kyiv and Lviv are on track. Airports are being renovated and the first inaugurations are taking place. We are confident that everything will be done in time," he told a press conference.
Poland's venues – Gdansk, Poznan, Warsaw and Wroclaw – will all be finished by next June, he added.
Sixteen national teams will compete in a total of 31 matches at Euro 2012. The format of four groups of four teams will be used for the last time at Euro 2012. The France 2016 edition expands to 24 teams.