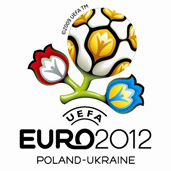 Poles are running ahead of schedule with their preparations.
Poland is ahead of schedule in its preparations for the 2012 European Soccer Championship. The UEFA commission recently visited Poland and Ukraine to assess the situation and approved the progress made in the Polish cities of Warsaw, Poznan, Gdansk, and Wroclaw, which will host the soccer games. Poland hopes that Ukraine will keep to its schedule and will clear the backlog, otherwise it will be denied the right to host the soccer championship.
Our Euro-2012 host cities are Kyiv, Donetsk, Lviv, and Kharkiv. However, if one compares the situation in Kharkiv and Poznan, one pair of the Euro-2012 partner host cities, in terms of renovation and construction of stadiums, maintenance of highways, the availability of European-standard hotels, etc., the picture here is lamentable. Masej Malewicz, a Poznan official and a Euro-2012 organization committee member, proudly displays a business card that says "Poznan. It's worth living here."
COMMITTEE MADE UP OF 14 SUBGROUPS
Poznan is the administrative capital of the Greater Poland Voivodeship, which is similar to an oblast center in Ukraine. It offers a good example of getting work organized for the benefit of the people and national prestige. As soon as Poland and Ukraine were accepted as Euro-2012 host countries, an organizing committee was set up in Poznan, tasked with getting the city prepared for the soccer meets. It has 14 departments that are responsible for construction works, security, roads, food supplies, hotel and other accommodations for the soccer fans, health service, and so on. Every department works on schedule, without getting in any other department's way; there is no competition or hurt feelings. Interestingly, the municipal authorities do not supervise this process, although the chairman of the commission formally reports to the mayor of Poznan.
"Investments have been planned and they have 100 percent guarantees. We have the funds we need. I would like to stress that what we're doing is not only for Euro 2012, but also because this will benefit the residents of our city.
"It's hard to say how much we have accomplished in terms of percentages. One thing is certain: we're getting ahead of schedule along certain lines. Euro 2012 will be a great festive occasion for Poznan. Everyone will celebrate it in this city, instead of leaving it. We want every resident of Poznan — not only the visiting fans — to partake of this festive atmosphere. In fact, the soccer fans of Poznan are the best fans in Poland. We expect men, women, and children to buy seats at our stadiums; we want this event to be a family holiday," says Pawel Swiderski, member of the Organizing Committee and president of the company currently building (renovating) Poznan's stadium.
He adds that previously this stadium was "OK, by the Polish standard." It is being expanded under special construction contracts. All works are expected to be completed by 2010. Ninety percent of the construction workers are Poles, while the developer is a consortium that consists of six Polish, German, Austrian, and other companies. The stadium project costs 484 million z otys. All works are being done according to schedule. Moreover, according to the developer's estimate, the plan has been exceeded by 20 percent.
"This stadium will be multifunctional; in other words, it will be able to host both soccer and other events. It will have every healthcare and entertainment facility, seating 42,000 or even 46,000, because things tend to change. This stadium falls under UEFA's elite class category," the chairman of the Organizing Committee specified.
ALL PREPARATIONS COST SOME 2.5 BILLION Z OTYS
Every effort is being made in Poznan to build an air terminal. The main thing is to build the runway by the end of 2011. The local railroad station is also to be renovated, although committee members say this project is facing problems because of the world financial crisis. The municipal authorities keep emphasizing the fact that Poland has been recognized by a team of international experts as a country that has sustained minimum losses in the world financial crisis (e.g., Poznan has a two-percent unemployment rate with a population of more than 580,000), so crisis is not a popular topic of discussion. Meanwhile, works are being done inconspicuously at the stadium, railroad station, and Warsaw-Poznan-Berlin Autobahn — the latter being Poland's special pride.
Remarkably, all these construction projects don't get in anyone's way, there are no traffic jams, dirty streets, noise, or blocked passages at the railroad station. In fact, the partly completed Warsaw-Poznan-Berlin superhighway symbolizes Poland's higher degree of Western European integration (most likely along the moral lines). Poland appreciates German production standards and welcomes German tourists, although there is an abundance of them in the country already. Poles aspire to have the German standard of living, even hough there is difference between what used to be West and East Germany.
"We have enough four-star hotels, but we lack five-star accommodations. Naturally, this is something to be dealt with by UEFA experts. We're working on this. We'll have inexpensive European-standard hostels for soccer fans, with all amenities. We have a total of seven hotels available," says Swiderski.
According to Poznan municipal authorities, today's crime rate is not bad; people trust the police and the police know how to carry out their duty. Strangely, one can hear sirens five to ten times every day while staying at a hotel, for example: police cars, ambulances, fire trucks. The Organizing Committee says police forces of Poznan and other regions will be on red alert for the duration of Euro-2012 soccer semifinals in Poznan, but no military aid will be required.
"WE ARE HAPPY UKRAINE HASN'T DROPPED OUT"
Poland really wants Ukraine to host the 2012 soccer games using the 4 4 formula, as scheduled.
Says Jerzy Stempen, deputy mayor of Poznan, candidate member of the European Parliament: "We're happy Ukraine hasn't dropped out, for we have effective cooperation with your country. It is even better than that with UEFA and the delegations from the West. I think it would be good for Ukraine to retain four [Euro-2012] host cities. The Polish government wants you to have them. Poland doesn't want to take them away…
"Moscow said that Ukraine had lost its opportunity. Why? Everything is in the hands of Ukraine. Everything will be OK. I've visited Kyiv once and Lviv on two occasions. I saw that the local infrastructure didn't meet the UEFA standards, but you have enough time to change the situation for the better. We can share our experience.
"We are convinced that reputation is the most important thing for every city. For example, the air terminal renovation projects are underway in Poznan and Kharkiv. In 1998 Poznan and Kharkiv signed a partnership agreement. Our relationships have expanded over the past several years and we are communicating on the highest — mayoral — municipal level.
"This cooperation is not about mayors establishing contact, but about contacts between organizations, like holding The Days of Kharkiv in Poznan and vice versa. Culture is a very important foundation for such relationships and for developing economic cooperation. We believe that Ukraine also wants to cooperate. We are aware of our historical responsibility. Fortunately, cooperation on a city-to-city basis proves quite effective because it is not subject to big-time political censorship."
No lecturing, just comments by Richard Kupidura, the honorary consul of Ukraine to Poland, who takes care of the Ukrainian ethnic communities helping college students financially, covering medical expenses, etc. He mentions two drawbacks on the part of Ukraine: lack of punctuality and appreciation of what it has. He wants Ukraine to change internally, than its visage on the international arena will change for the better.
CLEAN, VERDANT, INTERESTING
This visage includes what we see on our streets, in the suburbs, everywhere: heaps of garbage or neat flowerbeds. While on the Warsaw-Poznan express train I noticed the absence of garbage on the sides of the tracks and wondered about their waste management. I couldn't spot any garbage, wherever I looked. Poznan's Deputy Mayor Stempen explained later (he has been dealing with economy and ecology for seven years, and Poznan is regarded as one of Poland's cleanest cities):
"In the 1990s we allowed this sector (i.e., waste management — O.M.) to be privatized and this produced very good results. Market decentralization allowed competition between separate entrepreneurs, which was good business because companies in other cities became interested. Now we can choose between [waste management] companies, depending on the quality of their performance, costs, and so on, which is actually what the [free] market is all about. Now we can choose the best option for our city, sign contracts for two or three years, hold tenders so these companies have their services upgraded. We have several waste-processing (incinerating) facilities and we're working on a new incinerator project."
Another very important issue for Kyiv, Donetsk, Lviv, and Kharkiv — in fact, for all Ukrainian cities — is preserving the greenery. This issue has been practically solved in Poznan. Here all kinds of greenery are protected by law; when receiving a parcel of land for a construction project, the investor knows exactly the size and kind of plants to be included in the project. The standards are high and they have to be met. And there are flowers everywhere, so that the downtown area, with its heavy traffic, smells of acacia.
Stempen says: "Of course, we don't want to scare away investors, even though this adds to the cost of investments; we don't want to have a desert made up of concrete structures. As anywhere else, I guess, the investor wants to build malls in the first place. Local legislation protects historic sites and green zones. We have four lakes in the city that are also legally protected. Here one can build and operate only sports and rest-and-recreation facilities. We're trying to find sponsors interested in this sector."
One can only hope that the situation with the big Ukrainian cities will improve, using local resources and with an eye to the protection of historic sites and plant life. Also, it would be good to see local government officials sport badges reading that she represents Kyiv, Odesa, Myrhorod, Krasny Luch, Kerch, Voznesensk, Buchach, Kolomyia, etc. and that "It's worth living here." Especially if the latter statement were true. Another thing is whether the mayors are the only ones responsible for improving this situation? Poles say, "Everything is in your hands."