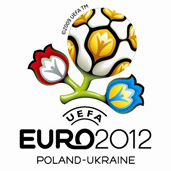 Uefa president Michael Platini reveals the surprise hosts of Euro 2012
Poland and Ukraine have been chosen to host the 2012 European Championships. Italy was widely expected to win the Uefa vote in Cardiff, with another joint bid from Croatia and Hungary also in the running.
However, Italy's bid was overshadowed by last season's referee corruption scandal and on-going problems with football-related crowd trouble.
It will be the first time that either Poland or Ukraine has hosted a major football championship.
Poland and Ukraine will host Euro 2012
Uefa president Michel Platini said: "Poland and Ukraine are surely a worthy winner. However, there are no losers today, rather only bids that have not won this time round."
Platini's announcement prompted scenes of jubilation in the host countries.
Polish Football Association chairman Michal Listkiewicz said: "There are 85 million people now waiting for this big football event.
"The friendship between our nations has a very long history. This big tournament will be an important milestone in the history of our two Slavic nations."
His comments were echoed by Ukrainian football federation president Hryhory Surkis.
"This is a decisive day for our country. It will provide new opportunities for our country as it strives to integrate with Europe," he said.
Poland and Ukraine's bid team staged an impressive presentation on Tuesday, featuring Chelsea striker Andriy Shevchenko, Liverpool keeper Jerzy Dudek as well as boxer Vitali Klitschko, former Olympic champion Sergei Bubka and Ukraine president Victor Yushchenko.
I think the problems we have had with violence have been decisive in this vote


Italy's Euro 2012 bid leader
Nonetheless, the bid was still considered the outsider of the three.
Poland is still recovering from a match-fixing scandal and its government has been warned by Uefa and Fifa about political interference in the country's football governing body.
Meanwhile, Ukraine has been hit by a political crisis, with the president trying to dissolve parliament.
Nigel Adderley, BBC Five Live's reporter at the vote in Cardiff, said: "It's a massive slap in the face to Italian football.
"Only last night, members of the Uefa executive committee were hinting that although Italy has had problems, they still felt it is a place that can develop a tournament and has the experience."
Italy's bid leader Luca Pancalli said the recent violence in Italy, including events at Roma's Stadio Olimpico in which riot police clashed with Manchester United fans, may have proved crucial.
"I think the problems we have had with violence have been decisive in this vote," he said.
"It is not just one incident – there was the tragedy in Sicily in February when a policeman was killed and then the problems in Roma for the Manchester United match, these things have been a big obstacle for us."
Poland and Ukraine's victory fits in with new Uefa president Michel Platini's policy of redressing the balance of power in football throughout Europe.
However, it is understood Platini did not attempt to mobilise support behind any one bid.
According to Uefa sources, Poland and Ukraine won in the first round of voting with eight of the 12 votes while four went to Italy and none to Croatia and Hungary.
The governments and football federations are now obliged to make improvements


Poland coach Leo Beenhakker
It will be first time the former eastern bloc has hosted the tournament since Yugoslavia in 1976.
Poland's Dutch head coach Leo Beenhakker said the decision was hugely important for the game in the winning countries.
Beenhakker said: "Eastern Europe has a great history in sport and in football and they still have great players but what they have been missing has been good infrastructure, stadiums and training facilities.
"Now the governments and the football federations are obliged to realise all their promises within the next five years and make these improvements.
"This is fundamental for football in Poland and Ukraine."
Games will be played in four Ukrainian cities (Dnipropetrovsk, Donetsk, Kiev and Lviv) and four Polish venues (Gdansk, Poznan, Warsaw and Wroclaw).
Two more Polish cities, Cracow and Chorzow, are listed as reserve venues.
Kiev's Olympic Stadium, used to host football at the 1980 Moscow Olympics, is the proposed venue for the final.
The tournament will feature 16 teams, although Uefa is looking into increasing that to 24 from 2016 onwards.