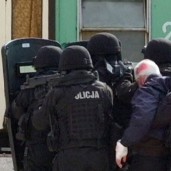 Security preparations for Euro 2012 football championship, co-hosted by Poland and Ukraine, are progressing according to the schedule, Polish deputy Interior Minister Michal Deskur said on Thursday.
Deskur recalled that the Interior Ministry and its services have been preparing for the tournament for several years. " Complete readiness should be confirmed in mid-May, about three weeks before the first match," he added.
Three organisational areas are of key significance to the tournament: security, transport and servicing the guests, the deputy minister explained.
Referring to his cooperation with Ukrainian authorities he stressed police and border guard preparations. He added that the Interior and the Administration Ministries will set up common headquarters for the time of the tournament. The 16-nation Euro 2012 soccer championships, slated for June 8- July 1, 2012, will take place in four Polish cities of Warsaw, Gdansk, Wroclaw and Poznan as well as four Ukrainian cities of Kiev, Lvov, Donetsk and Kharkov.