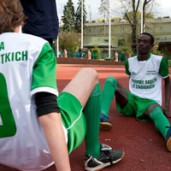 The 'NEVER AGAIN' Association co-organized the high-profile 'Poland for All' event together with the Polish Foreign Ministry, the Ministry of Sports and Tourism, the City of Warsaw and the Polish Association of Former Players. It took place at the Warsaw Agrykola stadium on 14 October. The event formed a part of the Football Against Racism in Europe Action Weeks.
One of the event's attractions was a match involving players of Warsaw's multicultural Ethnoleague and Polish football stars, including legends such as the former internationals Dariusz Dziekanowski, Radoslaw Majdan and Roman Kosecki.
It was followed by a tournament with the participation of children of various national and ethnic backgrounds living in Warsaw, including, among others, Brazilian, French and Russian children. Kids from Warsaw schools painted anti-racist murals, a group of official guests removed racist symbols in the vicinity of the stadium and participated in the creation of an anti-racist street art project by the renowned artist Dariusz Paczkowski, a longtime supporter of the 'NEVER AGAIN' Association.
The participants of the event included the Polish government plenipotentiary for equal treatment, Minister Elzbieta Radziszewska, Deputy Minister of Foreign Affairs Jerzy Pomianowski, South African Ambassador in Warsaw Lehlohonolo Shadrack Ted Pekane as well as newly elected members of the Polish Parliament – the former football player Cezary Kucharski and the Zambian-born economist Killion Munyama.
The event was covered by the country's main TV channels.
Another highlight of this year's FARE Action Weeks in Poland is the historic joint action by Ekstraklasa – Poland's first division – and the 'NEVER AGAIN' Association. At every match of the league this week, anti-racist messages can be heard on the stadium tannoys, the players entering the pitch are accompanied by children wearing anti-racist t-shirts and the teams take photos with banners saying 'Let's Kick Racism out of the Stadiums'.
The 'NEVER AGAIN' Association is an anti-racist educational and monitoring organization established in Poland in 1996. It implements the FARE Network 'RESPECT Diversity. Football Unites' project supported by UEFA in the lead up to the 2012 European Championship in Poland and Ukraine.
More information: