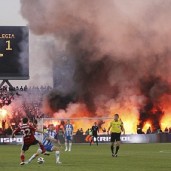 Prime Minister Donald Tusk has met with the sixteen chairmen of Poland's Ekstraklasa football clubs to talk about stadium safety and a proposed crackdown on hooliganism.
Sports Minister Adam Giersz and Deputy Interior Minister Adam Rapacki were also present at the meeting, as well as the Chairman of the Polish FA (PZPN), Grzegorz Lato.
Before the meeting, Donald Tusk, himself an avid football fan, said that he would announce government decisions as to stadium safety.
The Prime Minister said that his cabinet would continue to employ measures seen at the last league match between Legia Warsaw and Lech Poznan, when the Warsaw club's grounds were sealed off from fans after they ran riot in Bydgoszcz last Tuesday.
When the going gets tough…
There is a still a lot of work to be done to ensure that match safety can be guaranteed, Donald Tusk stated after today's meeting at the Polish Olympic Centre in Warsaw.
"I proposed to everyone that they take a look at what they are doing, as well as what they not in trying to make stadiums safer places. I get the impression that everyone present at the meeting accepted my proposition,"
the Prime Minister said.
"It is sure that the State has also failed, the police may have not reacted like they should, prosecutors and courts are not always as attentive as they could be. I've already started talks with the Prosecutor General on the matter,"
Tusk added.
Some of Donald Tusk's proposals are that clubs belonging to the Ekstraklasa should install CCTV monitoring and introduce fan identification, with police being able to shut down stadiums if they feel they cannot guarantee security.
The Prime Minister also announced that police forces will be present at all football matches, and if necessary will stop matches before the full-time whistle if things get out of control.
Ekstraklasa sceptical of extreme measures
Meanwhile, Adrian Skubis, head of Ekstraklasa SA, the company which runs Poland's premier league, told Polish Radio that while he supports a crackdown on hooliganism, closing stadiums is out of the question.
"We sent a very clear message after the administrative decisions from the Masovian and Wielkopolska provincial governors, that the best way to combat hooligans who are present at, or in the vicinity of stadiums is not the closing of Legia or Lech's grounds,"
Skubis said.
"In the context of [recent] events in Bydgoszcz, [this] was a match which was not organised by Ekstraklasa, it wasn't a league match and it took place at totally different grounds,"
the Ekstraklasa chairman added.
Last week, fans rioted towards the end of the Polish Cup final between Legia Warsaw and Lech Poznan. Over 1 million zloty (350,000 euros) in damages were incurred as a result.
Fans banned from 2 weekend matches
Governors in Wroclaw and Lodz provinces say Friday they are barring fans from attending Slask Wroclaw against KGHM Zaglebie Lubin on Saturday and from Widzew Lodz against Zaglebie Lubin on Sunday, citing police concerns over security.