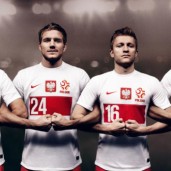 Poland's debut at the European Championship four years ago ended in disappointment: three games, zero wins.
The Poles have shaken things up since then – they've hired a new coach, revamped much of the squad and uncovered a trio of players who have found success in one of Europe's toughest leagues. As co-host of Euro 2012, Poland is hoping the changes make a difference when they take on Russia, Greece and the Czech Republic in Group A.
"It is our goal to advance from the group and I am convinced we can do it," Poland coach Franciszek Smuda said. "But this is a group that you can be wrong about. Russia is an excellent team. I think they are the favorites to advance from our group. Greece also is very good."
Poland, which automatically qualified for the tournament as co-host, hasn't played a competitive match since 2010 World Cup qualifying. But the team has performed well in friendlies against some top-tier opposition, including a string of draws against Germany, Mexico and Portugal.
That has produced a little buzz at home, and a growing sense of hope that the team can put on a good show.
"Last year showed that we can play with strong opponents," said Smuda, who took over as coach in late 2009 from Leo Beenhakker after Poland's failed World Cup qualifying campaign. " OK, so we didn't win, but we were good to watch. Against Germany, France and Portugal we fought as equals despite the fact that we don't have a team that has played with that lineup at a tournament and hasn't played against those sorts of opponents.
"That's why I'm optimistic and why Poles are optimistic."
While his team has proven tough to beat, Smuda readily admits he doesn't have the same talent pool to choose from as some other coaches at the competition.
"Taking over this post, I thought that you could easily find 11 players, and good players at that. But it turns out that it's actually very hard to find 11 good players," he said. "We aren't in a situation like the Germans are right now, where we could put together three national teams from our roster. We can only put together one, and we have to pray to God that we don't have any injuries."
What Smuda can draw on is a handful of top-class players – the Borussia Dortmund trio of Robert Lewandowski, Jakub Blaszczykowski and Lukasz Piszczek, as well as Arsenal goalkeeper Wojciech Szczesny.
Poland's attack will be centered on the 23-year-old Lewandowski, who is coming off a stellar campaign for Dortmund, where he scored 22 goals in 34 matches – third best in the league. His pace and finishing ability have attracted the interest of Europe's biggest clubs, and give Poland a quality scoring threat it hasn't enjoyed in more than a decade.
The bigger question is who will play alongside him up front, and Smuda has few quality options – if any – to chose from.
In the midfield, Blaszczykowski will provide a strong attack with his pace and dribbling down the right flank. Auxerre midfielder Dariusz Dudka, who is a veteran Poland's 2006 World Cup and Euro 2008 teams, and Bordeaux player Ludovic Obraniak aren't flashy, but provide solid midfield play.
Piszczek is Poland's top defender, and considered one of the best in the German league, particularly with is attacking ability.
The rest of the back line, however, has proven less reliable, and is prone to the occasional breakdown.
That puts much of the weight of Poland's defense on the shoulders of Szczesny, Arsenal's first-choice 'keeper.
The 22-year-old Szczesny, whose father also played in goal for Poland, has been impressive in his national team appearances, most notably against Germany in September when he made a series of crucial saves to preserve the 2-2 draw.
Smuda isn't making any guarantees, but he promises his players will be ready to go.
"We are playing at home and we will do our best to advance from the group and it will be a great success for these boys,"
,, Smuda said.
His countrymen will be watching.