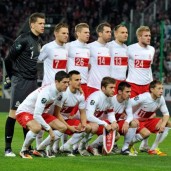 Co-hosts are hoping Borussia Dortmund's Lukasz Piszczek, Jakub Blaszczykowski and Robert Lewandowsk can reproduce their club success on the international stage
It is a paradox of football that the hosts of a tournament can enjoy a low profile. Attention will, of course, soar when Poland take the field against Greece in the opening match of Euro 2012, but Franciszek Smuda's side can be pleased that they have only provided meagre information for their opponents.
The same can be said of the co-hosts Ukraine, yet it is Poland who could be intriguing. Timing is everything and a certain eminence attaches itself to team with performers who have lately made a resounding impact. Borussia Dortmund took the double for the first time in the club's history with contributions from three of Smuda's men.
It is an open question as to whether Lukasz Piszczek, Jakub Blaszczykowski and Robert Lewandowski can make their presence felt again when they have reached a peak in their careers so recently. Even so, the thought of this trio must be soothing to Smuda. The mere statistics would raise spirits a little.
All three are making their way into the peak years of their careers, even if Piszczek has had to overcome injury. At 23, the striker Lewandowski is the youngest and his appetite for goals is keen. The attacking midfielder Blaszczykowski, a year older, is the captain of the national team.
These are players who have ensured that the vitality of the current Dortmund team is reflected in the record books. The double was completed by a 5-2 defeat of Bayern Munich in a cup final where Lewandowski helped himself to a hat-trick.
Smuda likes to say that he has assembled a rather young group because he has in mind an impact at the 2014 World Cup. That must be disingenuous at the very least. If the public took the remark at face value there would at the very least be exasperation at the implication that the tournament partly staged in Poland was nothing more than an extended practice session.
The true purpose must be to fend off expectations that will increase the pressure on the squad this month. Memories must linger of Euro 2008, where Poland scored one goal and took a single point from their group. Even that draw was chastening, since the equaliser for Austria was scored in stoppage time by Leo Beenhakker's team.
There have developments since then. "This team has convinced me over the past two and a half years that I can rely on them," said Smuda. Radical measures were necessary, particularly since Poland's status as co-host ensured that the side would be scrutinised severely.
In consequence, efforts were made to identify candidates who were eligible for Poland even if there had been little previous evidence of strong allegiance. The full-back Sebastian Boenisch is an example of that, having been capped by Germany at under-21 level.
Poland, steeling themselves for the feverish environment that surrounds a host nation, have to try and separate themselves from the past. The side was second bottom of its qualifying group for the last World Cup. They did make it to Euro 2008 but came last in their group. The captain, Blaszczykowski, deals with the issue as best he can. "The last championship was unsuccessful," said the midfielder, "but we have a great team this time. We have players who can change the match at any moment."
This is not an entirely delusional frame of mind. Home advantage could count and the lineup probably has been enhanced. Even so, there are strengths to Poland Greece that should not be overlooked. They took the direct route to these finals by topping their group ahead of Croatia. Unless there is a transformation, Greece will not leave the crowd in raptures. There is no onus for them to when all the expectations bear down on Poland. The manager, Fernando Santos, is Portuguese and will not have forgotten Greek prowess when the Euro 2004 title was taken with that 1-0 win over Portugal at the Estádio da Luz in Lisbon.
Greece play as they must. Goals are to be used sparingly and few are conceded. In the qualifiers, just five of them were endured over the stretch of 10 games. They have been hardy in a physical sense as well as in their organisational resilience. Football has no power to cure Greece's stricken economy, but the public will nurse some hope that Euro 2012 can be a pleasant distraction for at least a little while.