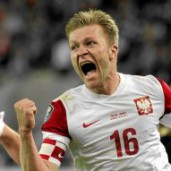 A coach should have a detailed plan for every group match. Franciszek Smuda, 63, has been leading the national team for 25 months.
– In the clubs he used to be adamant. He worked hard for a great respect and recognition, because he focused on the work with the team and he wasn't interested in nothing else – says Marek Koźmiński, 46-time representative, a silver Olympic medalist from Barcelona from 1992, who played over 100 matches in Series A and appeared at the World Cup in Korea.
– In the national team he took too many duties on himself and it can be noticed that he feels bad with the whole situation, he is lost. He wants to be a coach, a selector, a spokesman, a supervisor, a manager, and recently PR-er. He has become a politician and a teacher of the propriety. And for two years now he hasn't found the reply, why he appointed as many as competitors. Even today he hasn't got the basic eleven in the head on the Euro. There are six-seven certs, but football is played in the team of eleven.
– I am concerned about the lack of competition for a place in the starting eleven as well as the lack of substitutes – adds Grzegorz Mielcarski, the tenfold representative, the silver medalist in Barcelona, the former FC Porto player, nowadays an expert for Canal+. – Szczesny, Lewandowski, Blaszczykowski and Piszczek are irreplaceable. Does the coach, however, is ready for the unpleasant surprise? Who can replace being in a weak form Obraniak, who can replace Peszek or Mierzejewski, who sits on a bench in Trabzonspor? Nowadays, nobody says it loudly, but I am afraid that after the championship we will hear: "The clubs substitutes played, but we did not find better ones." It is hard not to have the impression that the team works on the principle "things will work out somehow." After two years, too many questions remained unanswered.
– Change in a football team during the Winter time would not improve the situation much – says Dudek. – However, we can do something about it. I have been watching the French players, Benzema and Diarra, working hard before the South Africa World Cup. Reserve players of the Real Madrid were thinking about going to Africa, therefore they had spent more time on exercising and practiced interval running as well as time trials. In fact, they had done all their best so as to make their hearts work at top speed. Mammadou Diarra, captain of the Mali national team, practiced likewise before the African Cup of Nations. They realised what was about to happen. It should be a hint for our national team players to follow. If they do not play in football teams, then they need to do something extra so as to be in optimal physical shape. If you play in a football team, which plays a game every three days, it is not possible to build optimal physical shape during workouts with a team. You need to practice individually a lot.
However, what really worries numerous experts is in fact a poor play on the line of defence.
Half a year before Euro 2012, we should have one puzzle at the most and we have as many as three," says Mielcarski. "Damien Perquis and Arek Głowacki will probably play centre, if nothing happens to the latter. But I do not reckon this is our optimal duo of centre-backs. Pity that Jacek Zieliński, Smuda's assistant coach and an exquisite former sweeper of the national team, cannot advise on who should play centre. He knows best and should take on the responsibility. The only one I do not worry about is Piszczek, who reaps laurels for the whole of Borussia play. He is not the "sticking plaster" type who would weekly fight back the best forwards in the world. He plays forward well, but does not score goals. He is an important cog in a well-operating machine.
Kozminski speaks even more sharply:
– I can not see any idea for preparing defense. There is chaos in it. Perquis and Glowacki are two identical center half-backs. They play good, hwoever, they are slower. One center half-back should be strong, to interrupt actions and play in the air, and the other one should be fast and agile. The same should apply to side referees. One, as Piszczek, who runs from the penalty area to other penalty area and cooperate with a winger. The second may not exceed the center line, and after receiving the ball should give it to the nearest partner. I do not understand why it is necessary to search for a place for Marcin Wasilewski. This a right-back, not the middle one. On the left-back there is Jakub Wawrzyniak, who can do nothing. He can not defend and can not attack. Smuda says that he had not found a better player! If he doesn't have an ideal, he should put a winger in the defense area. It can't still be repeated "I do not have". This is a kind of an alibi-searching.
Let's leave Wasilewski alone as a right full back, not center back. He'll do anything just to play. If Smuda told him to play offense, he'd remember that he once used to score goals," asserts Mielcarski.
Smuda believes that Sebastian Boenisch will play in the left defense at Euro 2012. However, the 24-year-old Werder Bremen player has been trying to return to field after two knee surgeries. He played two matches on the Polish team in September 2010. He's been rehabilitating ever since.
"The couch found out that the job of the manager of the Polish national soccer team is nothing compared to that of a club manager. In his beginning as a manager he said there weren't many talents. As he hasn't found any national team worthy gems, he roamed around the world in the quest to discover players with Polish roots so that they could become naturalized Polish citizens. The best find is Boenisch,"
affirms Dudek.
"He's capable of recuperating from his injury and getting back in shape. Though, taking his issues into consideration, I would've found two other candidates instead a long time ago."
"I'm wondering when he'll start playing in his club. There's no point waiting for him. It's a lottery – either failure or success,"
claims Kozminski.
Mielcarski also expresses his doubt: – We have grown fond of him after the last two sparring matches, but I wouldn't think of him in the context of Euro. He played extremely well against Australia, he was assisted then. But I haven't seen him playing against Italy, Germany or France. I don't know how good a defender he is, how he deals with one to one situations. I don't know if he's swift enough. He is in good physical condition and can accurately cross the ball. I've had serious knee operations and I know how hard it is to recover. And Boenisch is to be back not as a player in the friendly matches or qualifiers but in the most important event in the football history.
While we talk about the attacking game, the name of Robert Lewandowski comes up all the time. However a question about the team strategy for the Borussia forward to strike a goal is followed
by an embarrassing silence.
A year ago the Germans mocked at Robert while today they praise him to the skies," says Dudek.
It impressed me that he took everything in his stride, he knew his potential and he knew his form would get better. He was doing his thing. And due to that today we have a European-class player. The national team needs such personalities, it's not just the selector who should be in the spotlight.
– Robert is maturing at an extraordinary pace, I was astonished to watch his rapid progress – adds Mielcarski. – Two years ago he was but an apprentice. Today, he is a supervisor, and on a good way to becoming a master. It was nice to see young Wojtek, Kuba and Robert take responsibility for the team during the last two years. They may lack the charisma of Hajto, Świerczewski or Dudek, yet they have a positive influence on the team. They have earned their respect with humility, determination and hard work, without any managerial connections. However, – I'll put bluntly tough I realize many people might fell offended – this representation has shown no style so far. It relies on a few strokes of genius by Kuba or Robert, on individual skills rather than team abilities. Do we attempt pressing? Of course we do. If it works from the beginning, we play well. Things get worse if the opponents manage to avoid the pressure a few times. This is when the team loses its self-confidence, the players withdraw and become nervous. And to take the ball just after losing it is not a novelty anymore. It could be so almost 20 years ago, when Smuda introduced this element in Widzew. Today, it is the football ABCs.
Strong representation can expose our shortcomings.
– It troubles me that the first year was wasted – says Dudek. – The coach Smuda called almost all leaguers but experiments did not give anything. Till now I do not know what the team can do. They play and play, but how they will perform during the tournament, being under great pressure? The expectations are enormous. Although the group appears to be within reach, we do not have chances to go out of the group. Unfortunately, we do not have style. We are dangerous only in single matches.
Drawing has changed the perspective – Mielcarski adds – It seems to me that all the trouble that we witnessed two weeks ago are gone now. Fans are convinced that promotion is obligatory, no matter who, and how, plays in our national team. If our opponents were strong, tactics would be simple: defense and counter. And now? Fans think that we could just attack. But we could be forced to use the positional attack, which we are not familiar with. I do not think, that Greece will go on us. I don't know if we've got players that are patient enough on the field. It would be difficult to play with restraint. Our team will do their best. Atmosphere of the championship, fans – this will be very inspirational for the team. Whatever Smuda would come up with, emotions will take over. And i don't think that the coach would slow down the team, because our players are not very sophisticated. We are not able to go on the field and jut play according to the scheme: defense – counter. You need strong nerves and psyche for this. Maybe it would be possible with Germans. But with Greece?
– This will be the most important match of the tournament. If we win, the door to the quarterfinals will be widely open. Failure could mean that the last match in the group, with the Czech Republic in Wroclaw, will be fought for honour. Only Euro will show us, whether the last two years have been wasted or not. One could do more. What shocked me was the inconsistency of coach's speech and behaviour. He has lost a lot of battles. National team players believe in him less than they did before in Leo Beenhakker or Jerzy Engel. But they have lost lost in big events. Maybe now, in contrast to them, promotion will be achieved?
– I would recommend a sip of cold water for all optimists- ends Kozminski. – We must not move with an open visor at any rival. Let's finally use our brains and do not try to dictate terms. This is a tournament. The third draw also could give us promotion.