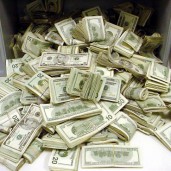 Some participants of the EURO 2012 have already announced the amount of bonus for their players. Germany, one of the favorites, offers € 7 million (to be divided) for winning.
We cannot such bonus because the Polish Football Association have less money than DFB, however, we will not complain, anyway. If they managed to (somehow) get the gold medal, they would get € 3-4 million to be divided between the members of the team.
This is a little more than the promised bonuses for winning the EURO 2008. Then, the former President of the Polish Football Association Michal Listkiewicz offered three million euros for the triumph in Austria and Switzerland. The second place is valued at € 1.8 million, a promotion to 1/2 was worth € 1.2 million and to 1/4 – € 800 000. Victory in the match of group stage gave € 400 thousand, and the draw was worth € 200,000. Players got 10 thousand euros each as a kind of start.
– I heard that negotiations on bonuses had already begun. I have advice for the authorities of the Polish Football Association: let it be done as soon as possible, so that it would possible to focus on the most important thing, this is football preparation for the EURO 2012. I do not want to brag, but recently the representatives of Poland have admitted that in times of the referee Listkiewicz such negotiations had lasted five minutes and I had even bought them beer. I hope that now the situation will be similar – says Listkiewicz.
As far as it is known that the bonus for winning the championships will amount to about € 3-4 million, it is not known what will be the amounts of bonuses for individual achievements. "Super Express" suggest adopting the German model in the part for the struggle for promotion. DFB has proposed it and Lukas Podolski and the company agreed to such a solution that if the German team did not come out of the group, they will not get no money! We consider it a very good and fair solution. Paying just for participating is exaggeration.
And one more thing: € 3-4 million is a bonus for making something almost impossible possible, this is winning the EURO 2012 by the Polish team. According to British bookmakers our chances are as 1:51. However, in 2004 nobody bet on the team from Greece …