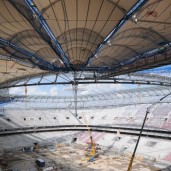 Warsaw – Poland's National Stadium, which is to host the opening match of the Euro 2012 football championship, was unlikely to be ready by the June 30 deadline amid a series of construction mistakes, local media reported Wednesday.
The stairs leading up to the stadium in Warsaw were faulty as inspectors said they would not withstand the weight of thousands of football fans.
'I'm aware there are tensions at the construction site, especially because of the stairs,' said Sports Minister Adam Giersz. 'They are faulty, which means the deadline might not be kept … I was at the stadium. I saw the stairs. Really, they are a safety hazard.'
A spokesperson for the National Sports Centre, the body in charge of building the stadium, said she was not sure how the mistakes would effect the deadline of the project.
'At this time the contract is binding and we're assuming that the builders must fulfill it until June 30,' Daria Kulinska told broadcaster TVN 24 when asked about reported problems with the stairs and electric wiring.
The inspector caught the fault in the stairs and the builders have been informed of the problem, Kulinska said. The centre is now waiting for a decision from the builders to see if the stairs will have to be redone, Kulinska added.
The daily Dziennik reported Wednesday that the electrical wiring and sanitation systems were not designed properly. Those mistakes mean the stadium would not be ready until March 2012 – or some six months before the opening game of Euro 2012.
Ticket sales for a motocross event, which were due to launch Wednesday, were called off. The bike event was to be the stadium's opening act on August 6.
A delay of thirty days in building the stadium would mean a fine of 100 million zloty (35.5 million dollars) for the builders, Giersz said.
Stadium construction in Gdansk, another Polish venue set to host Euro 2012, have also been delayed, forcing officials to move a June 9 friendly between Poland and France to Warsaw.
Poland and co-host Ukraine were controversial choices to host the prestigious tournament. They have both come under fire for slow progress in building infrastructure for the tournament.
More recently, Poland has come into the spotlight after rioting at the domestic cup final earlier this month forced authorities to shut down several stadiums.
Four Polish cities are hosting the tournament, including Warsaw, Poznan, Gdansk and Wroclaw. Ukraine's host cities are Kiev, Lviv, Donetsk and Kharkiv.
Warsaw – Poland's National Stadium