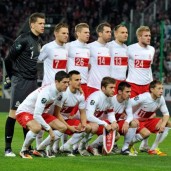 Polish coach Smuda announced first wide squad for the European Championship in football. No lack of surprises.
Francis Smuda announced wide squad of Euro 2012 26 players. On May 6-16 kadrowicze will drill on regenerative camp in Belek, Turkey. Then the Polish national team will travel to Lienz in Austria, there to grind form the European Championships. May 27 coach is expected to announce 23-man final squad for Euro 2012.
The likes of Arsenal FC goalkeeper Wojciech Szczęsny and Borussia Dortmund trio Łukasz Piszczek, Jakub Błaszczykowski and Robert Lewandowski – all Bundesliga champions – represent the spine of the team. Yet the inclusions of Hannover 96 striker Artur Sobiech, Legia Warszawa forward Michał Kucharczyk and uncapped 19-year-old Rafał Wolski brought a few surprises.
Goalkeepers:
Łukasz Fabiański
Wojciech Szczęsny
Przemysław Tytoń
Defenders:
Sebastian Boenisch
Kamil Glik
Marcin Kamiński
Tomasz Jodłowiec
Damien Perquis
Łukasz Piszczek
Marcin Wasilewski
Jakub Wawrzyniak
Grzegorz Wojtkowiak
Midfielders:
Jakub Błaszczykowski
Dariusz Dudka
Kamil Grosicki
Adam Matuszczyk
Adrian Mierzejewski
Rafał Murawski
Ludovic Obraniak
Eugen Polanski
Maciej Rybus
Rafał Wolski
Forwards:
Paweł Brożek
Michał Kucharczyk
Robert Lewandowski
Artur Sobiech