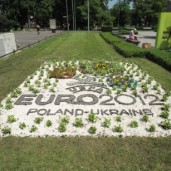 Common border checks, simplification of checks procedures, as well as increase of the safety of fans are joint projects of Kiev and Warsaw, which are being prepared for the EURO 2012. The projects are being prepared by internal affairs ministries in both countries in the framework of a working group of Euro 2012.
An important project is to organize a joint Polish-Ukrainian border checks, which would facilitate the whole process of checks and shorten the waiting time. Dariusz Derewicz from the Department of Public Security said that such cooperation worked, among others, at frontier crossings in Kroscienko-Smolnica in Podkarpacie and Zosin-Uściług in Lubelszczyzna: "The organization of further common checks requires further discussion with Ukraine," – says Derewicz. Such discussions are continuing.
Another form of cooperation on the Polish-Ukrainian border are the so-called "green lanes", aiming at make the time of border crossing for passenger cars shorter. It is a simplified customs control. "If it turned out that someone transport goods illegally, the punishment will be much more severe" – says Dariusz Derewicz.
Poland and Ukraine want to ensure maximum safety of fans and participants of EURO 2012. The coordinator of matters related to Euro 2012 from the Ministry of the Interior and Administration ensures that common strategy and safety standards are almost ready. Poland and Ukraine will soon ask European countries for support during the championships. It concerns mainly police officers from abroad, together with Polish and Ukrainian officers, who would patrol the places where fans gather.