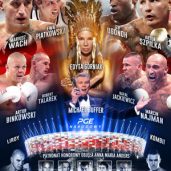 The National Boxing Gala, announced as the biggest boxing event in Polish history, is to take place at Warsaw's National Stadium on May 25th. Minister Anna Maria Anders – daughter of the legendary World War II general – who is now the Prime Minister's plenipotentiary for international dialogue has extended her patronage over the event. Curiously, the gala features Artur Binkowski, a Polish-Canadian neo-Nazi.
The bouts are to be accompanied by music performances by pop stars including the famous Polish rapper Liroy who is also a Member of Parliament. The host and ring announcer is to be Michael Buffer, known for his collaboration with Donald Trump. The organizer, Marcin Najman, an ex European champion in kickboxing, says that the gala constitutes a form of celebration of the 100th anniversary of Poland's regaining of independence.
The now 43-year old Binkowski reached quarter-finals at the Olympic Games in Sydney, representing Canada, where he lives. His biggest claim to fame was a minor role as a boxer in the 2005 movie 'Cinderella Man' with Russell Crowe and Renée Zellweger. Since 2012 he boxes mainly in Poland and is known to have had problems with the law. In a recent incident in Canada, he was arrested and held for a month in February this year.
During a press conference at the National Stadium, Binkowski made a speech in which he called for a 'pure white Poland' and condemned politicians whom he does not recognize as 'true Poles'. He also paid homage to a group of supporters whom he called 'my skinheads'.
In his social media posts Binkowski frequently promotes songs from the repertoire of the neo-Nazi band Honor, he also posts his own comments with racist and antisemitic contents, e.g. 'We are still under partition of foreign powers!! And this has gone on for almost 300 years. The first time, they raped us physically!! After World War II we were occupied by Russia. In 1989 our mothers and fathers rejected Moscow, Russia and Communism. Since 1989 to this time and it's almost 2020, we are ruled by Jews and Israel!!' In another post he comments: 'Lefties, Judases, poisoned brains (…) Jews are making them into idiots and traitors. They should be stood up against a wall and shot.'
The organizers of the Gala have not backed out of featuring Binkowski who is to fight with Najman. His name is seen on the official internet site of the National Stadium. The 'NEVER AGAIN' Association has been asked to intervene in this matter by a correspondent who wrote: 'This is simply shocking! This man wipes his face with the Polish flag, shouts abuse and promotes a neo-Nazi group, while himself sporting a cap with the >Poland resists< anchor symbol or a T-shirt depicting the Warsaw Uprising. I myself practice martial arts and see that this imbecile is becoming a role-model for young boys.'- 'The National Stadium is not a private playground but a public edifice built before the 2012 European Football Championships' - says Rafal Pankowski, who coordinated the anti-racist campaign 'RESPECT Diversity', carried out by the 'NEVER AGAIN' Association as part of the UEFA Euro 2012 Social Responsibility Programme. – 'If the organizers do not change their mind, we call upon Madam Anders to immediately withdraw her support for the event.'- 'There is no place for discrimination in sports. It should unite people, not divide them on the basis of origin or skin colour. There must be no place for hatred. The organizers of the National Boxing Gala and the hosts of the National Stadium should think this over' - adds Piotr Ciolkowski, a sports educator who co-leads the 'Let's Kick Racism out of the Stadiums' initiative of the 'NEVER AGAIN' Association.Witold Liliental, a Canadian-based friend and cooperator of the 'NEVER AGAIN' Association, says: - 'I have some doubts as to a boxing gala being the best way of celebration of an important national anniversary. As to the idea of a known racist and white supremacist being the star of the show, I have not the slightest doubts. It is a profanation of all that I have been taught: tolerance, respect and decency. Binkowski's behaviour brings shame to both Poland and Canada. I wonder why some known artists agree to perform at such an event. This gala with this man must not be allowed to happen.'The 'NEVER AGAIN' Association is an independent anti-racist organization, founded in 1996. It conducts campaigns such as 'Music Against Racism', and 'Let's Kick Racism out of the Stadiums'. Together with the Fare network, the 'NEVER AGAIN' Association coordinated anti-racist educational activities around UEFA Euro 2012 in Poland and Ukraine.