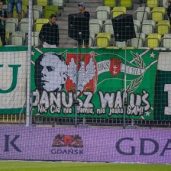 After a break in live-audience football games caused by the epidemic, racist slogans and banners have returned to stadiums. The 'NEVER AGAIN' Association noted a surge in activity of those who use football to manifest their endorsement of Janusz Walus, a Polish-born far-right activist serving a life sentence for a racist murder in the Republic of South Africa.
During a top flight match between teams
Lechia Gdansk and Legia Warszawa
(15 July), hooligans from Gdansk again displayed a banner with Walus's name and picture and the slogan 'Nothing will break you, you're not alone' and faced no consequences. No disciplinary action was taken by the Polish football authorities despite this being yet another display of racist propaganda in the Lechia Gdansk stadium. The city authorities, who financially support Lechia and rent out the stadium in question, have also failed to react.
In 1993, Walus murdered Chris Hani, a Black politician who fought to end the apartheid in South Africa. The assassin was a member of racist organizations. He was sentenced to the death penalty, subsequently changed to a life sentence (capital punishment was abolished in South Africa in 1995). The murder, plotted by the far-right, was intended to start a civil war. The list of future potential victims of Walus included Nelson Mandela.
– 'It is astounding that
football hooligans can display support for a racist
murderer at
Polish stadiums
unpunished. Slogans and flags bearing praise for Walus have been appearing on the stands for a couple of years now' – comment representatives of the 'NEVER AGAIN' Association. – 'After a short summer break matches will recommence on 22 August. Let's hope things will change'.
'NEVER AGAIN' activists note that, in contrast to many sports clubs worldwide, Polish clubs have not supported the international anti-racist campaign Black Lives Matter. An exception was a fourth division club Polonia Sroda Wielkopolska – its players knelt on the pitch and thus honored the memory of George Floyd, a Black American killed by a police officer. Under a short note published on 5 June on Polonia's Twitter profile, which included a picture of the footballers and an invitation to other clubs to join the campaign, almost all the comments were negative and vulgar, including: 'whack yourselves in the head', 'I see you bambers [Poles who descended from Germans, now living in the Poznan area – translator's note] are f.cked up', 'please untag Legia and don't involve it in this pathology', 'don't even try to include Lech
Poznan
in this sick campaign', 'go kiss n.gro's shoes', 'you're f.cked up. I hope that n.gros destroy your asses', 'F.ck, my city made such an embarrassment of itself', 'Shame for all of Sroda Wielkopolska and its inhabitants'.
'NEVER AGAIN' has led the 'Let's kick racism out of the stadiums' campaign since the mid-1990s. Its originator was the late Marcin Kornak (1968-2014), the president of the Association for many years. The campaign aims to fight racism and discrimination in football. An important part of the campaign is monitoring racist incidents and informing the public about them.
In recent years and months, the 'NEVER AGAIN' Association noted many banners and flags flown during matches, displaying praise for Janusz Walus. These were exhibited by hooligans from many clubs including Rakow Czestochowa, Chelmianka Chelm, Pogon Szczecin and Legia Warszawa, among others. A real scandal occured on 21 March 2019 during a UEFA European Championship qualification game in Vienna between the Austrian and Polish national teams. Polish hooligans associated with Wisla Plock displayed a banner calling for 'Freedom for Janusz Walus' with a photo of the murderer. The match was played on the International Day for the Elimination of Racial Discrimination, proclaimed by the United Nations to commemorate victims of the racist apartheid system.
In Poland, sympathizers of extreme nationalism publicly support Walus also away from the context of sports, for example at street demonstrations. On 1 March 2020 in Bydgoszcz, a march to honor the memory of the so called 'Cursed Soldiers' (a group of anti-communist guerrillas which operated in Poland after 1945) was held and its participants carried banners saying: 'Janusz Walus. The last of the Cursed Soldiers' and 'Death to the enemies of the homeland' (a slogan calling for ideologically-motivated violence). The march was headed by the city council member Jerzy Mickus, a member of the Zawisza Football Association's board (a local football club).
Another march took place on 18 July 2020 in Katowice, where participants, including members of the National Radical Camp (ONR), shouted out 'Janusz Walus is our role model', as well as 'Death to the enemies of the homeland' and 'We will abolish democracy'. They also displayed banners with slogans: 'It is ok to stay white' and 'National Cleansing Front' along with the Celtic cross – a racist symbol. The demonstrators carried a flag with a Nazi symbol called the Black Sun.
The popularity of Walus is also expressed in gadgets sold on the internet. For example, on the Polish online sales platform OLX one can purchase fan stickers with the name of the murderer and slogans commending his actions. OLX belongs to a South African media and technological internet group, Naspers. For many years, the company had actively supported propaganda upholding the apartheid. However, sales of items praising Walus are being removed from another major online sales platform, Allegro (previously also owned by Naspers), thanks to the intervention of the 'NEVER AGAIN' Association.
On 16 March 2020, the Minister of Justice of South Africa, Ronald Lamola, upheld the decision of his predecessor and denied Walus parole. Walus never expressed full remorse for his crime.
Polish members of parliament, tied to extremist nationalist circles, have campaigned for Walus's release. In May 2016, MP Robert Winnicki (former leader of the far-right group All-Polish Youth and currently member of the Confederation party) filed a letter to the Minister of Foreign Affairs in which he demanded the Polish government take 'appropriate steps to negotiate the immediate release of Janusz Walus' and arrange his return to Poland. Similar requests calling for government intervention were submitted by other right-wing MPs, Tomasz Rzymkowski, Bartosz Jozwiak and Sylwester Chruszcz.
The 'NEVER AGAIN' Association is an independent organization established in Warsaw in 1996. It has campaigned against racism, antisemitism and xenophobia, for peace, intercultural dialogue and human rights both in Poland and internationally.