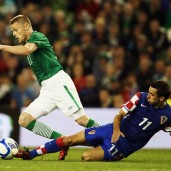 In the second, definitely less interesting match in Group C, the teams of Ireland and Croatia will measure their strength.
The 18th team in FIFA ranking secured themselves the right to participate in European Championships in Poland and Ukraine after victorious playoffs with the team of Estonia. Croatians had also to play an additional match, taking up the second place in their group just behind Greece, but they defeated the Turkish team and were decidedly better than their rivals.
It will be an encounter of two very well matched teams with a slight advantage of experience on the side of Croatians who advanced to the quarterfinals at the previous European Championships after defeating in their group among others also the Polish team. For the last time Giovanni Trapattoni's party took part at the great event at World Championships 10 years ago; they reached 1/8 finals.
The advance to the next stage will be also a big success for the Irish team; depending on the result and style of the play in their first match it will be possible to tell something more about their chances in the following games.
Bet: Croatia will win.
Republic of Ireland – Croatia Betting Odds
| | | | | | | |
| --- | --- | --- | --- | --- | --- | --- |
| Republic of Ireland win | 3.60 | 3.20 | 3.50 | 3.75 | 3.50 | 3.55 |
| Draw | 3.20 | 3.00 | 3.30 | 3.25 | 3.25 | 3.20 |
| Croatia win | 2.10 | 2.10 | 2.10 | 2.10 | 2.15 | 2.10 |
| Sign up bonus | freebet 100£ | freebet 25£ | bonus 20€ | bonus 30€ | freebet 60£ | bonus 50£ |
Group B
Our bet: Croatia win
Match: Republic of Ireland – Croatia
Stadium: Municipal Stadium Poznan, Poznan
Time/Date: 20:45 10th June 2012