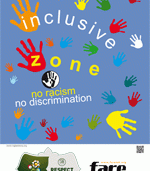 With a week to go until the start of Euro 2012, the FARE network programme for Poland and Ukraine is making final preparations ahead of a launch in Warsaw next Friday (8 June).
With concerns over potential racism and far-right activity high on the public agenda, the FARE programme includes an unprecedented level of monitoring at matches and a high profile campaign that comes to a focus at the semi- finals of the tournament.
FARE has been working with UEFA on a 'Respect Diversity- Football Unites' programme that will include anti- discrimination messages at every game, a joint protocol on the reporting of incidents, a commitment to take disciplinary sanctions, and a campaign focus at the semi- finals that will see diversity messages from team captains and a giant Tifo display.
The activities in Poland and Ukraine are the culmination of a three-year programme to develop a hub in the region with a focus on education and engagement. The key elements of the FARE activities at Euro 2012 include:
– A total of 30 international monitors – at least two at each of the 31 games
– A reporting hotline for fans to report racist and discriminatory incidents
– Up to 300 public areas self- declared as Inclusivity Zones to provide welcoming spaces across Poland and Ukraine
– A fanzine in four languages
– Tour of Streetkick, the mobile football game to engage fans and locals with an anti- discrimination message
– Respect Diversity theme at the semi-finals featuring a strong message to celebrate diversity
– A roster of ambassadors for the Respect Diversity – Football Unites campaign including international footballer Clarence Seedorf and Italian referee Pierluigi Collina
Rafal Pankowski, of the Warsaw-based 'Never Again' Association and co-ordinator of the FARE programme for Euro 2012, said today,
'This is the first major football event to be held in Eastern Europe in the modern era and it is one that we have been anticipating for a long time.
'We have well documented issues with discrimination in football but I am also confident of the strong messages that will be sent out, and the contingencies we have to deal with problems. There is also no doubt that the majority of the people of our countries will do their best to welcome visitors regardless of their background or nationality.
'Our biggest achievement has been to start a dialogue and to raise difficult issues, a process that will contribute to the social development of both our countries. We have a close working relationship with UEFA and are proud to be implementing partners of the Respect Diversity – Football Unites campaign.'
Full details of the FARE programme is available on the newly launched www.FootballUnites.net website. Daily information on developments will be available through the FARE Twitter and Facebook accounts.