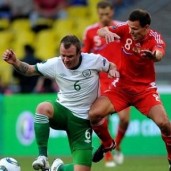 In second match of European Championships, as soon as the match between Poland and Greece finishes, two other teams from our group, i.e. Russia and Czech Republic will enter the stadium in Wrocław.
The unquestionable favorites of this match will be Russians who surely will want to repeat the result from the previous European championships, when they advanced to the quarterfinal defeating on the way among others the Dutch.
The first step to achieve that success will be defeating the world's 26th team, i.e. the Czechs. There are no great stars in Russian team, but it is a coherent collective.
Czech national team doesn't have such a large potential; it will be very hard for them to stand up to Sborna team. At European Championships there are no weak teams, and it is very difficult to designate the winners of individual matches. Nevertheless, in this case, you can hardly count on a result different than Russian victory. But I am sure that both teams can count on fantastic cheering of their fans.
Russia will win.
Russia – Czech Republic Betting Odds
| | | | | | | |
| --- | --- | --- | --- | --- | --- | --- |
| Russia win | 2.10 | 2.05 | 2.10 | 2.20 | 2.10 | 2.10 |
| Draw | 3.30 | 3.20 | 3.25 | 3.25 | 3.25 | 3.20 |
| Czech Republic win | 3.50 | 3.10 | 3.60 | 3.15 | 3.60 | 3.55 |
| Sign up bonus | freebet 100£ | freebet 25£ | bonus 20€ | bonus 30€ | freebet 60£ | bonus 50£ |
Group A
Our bet: Russia win
Match: Russia v Czech Republic
Stadium: Municipal Stadium, Wroclaw
Time/Date: 20:45 8th June 2012