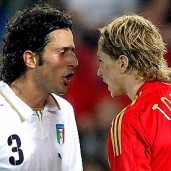 In opinion of Lorenzo Bernardi, Italians and Spaniards are the main favorites of European football championships.
"It won't be easy, but I think that my compatriots will be playing with Spaniards twice – in the group and after that … in the final match," he said.
Italians play in Group C (Gdańsk, Poznań) together with Croatia and Ireland. Bernardi is go-ing to watch the matches on TV and thinks that many Italian fans will come to see the tour-nament live.
"I hope, that they will visit not only Poland, but also Ukraine, where the final match is sched-uled," he added, smiling.
Recently, there is much talk in Italy about a football corruption scandal.
"That's a fact, all newspapers write about it. But corruption is not only Italian, but also worldwide problem. I think that the guilty persons will be caught. We Italians love football after all and our fans will surely come to the championships in spite of everything," he said.
He reminded the journalists of the fact, that in 2006 there was also a corruption scandal in Italian league, and the national team of his country won the world championship then. Euro 2012 winner betting is open!