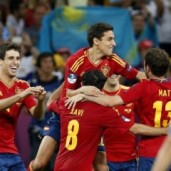 Spain beat Italy 4-0 in the final of the European Championship on Sunday.
The 4:0 Spain's winning over Italy in Euro 2012 final match is the highest final victory in the history of European championships.
Until now the highest score was 3:0 in the match between FRG and USSR. Previously, there were also four goals in one match, namely in 1976 Czechoslovakia achieved a draw 2:2 in the match with FRG, but they won the series of penalty shots scoring 5-3.
The last three final matches were settled by one-goal difference, and the last two matches ended with the score 1:0. Four years ago the Spaniards defeated the Germans scoring 1:0. This year, playing against Italians, they managed to shot four goals.
Goals for the Spanish team were scored by David Silva, Jordi Alba, Fernando Torres and Juan Mata.