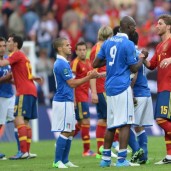 Spanish media had mixed feelings after Spain's Euro opener with Italy ended in a draw on Sunday.
Sunday's 1-1 draw against Italy in the Euro 2012 Group C opener produced bittersweet feelings in Spain.
On the one hand, their was a sense of relief that the world champions managed to battle out a draw, thanks to an equalizer from Cesc Fabregas just three minutes' after Antonio Di Natale had given Italy the lead.
However, there was also disappointment that Fernando Torres wasted several good chances at the end to give Spain victory.
"We Wasted Too Many Chances", said the headline in sports daily Marca on Monday in reference to the late misses of substitute Torres.
Marca was fairly positive about the experiment of national manager Vicente del Bosque to field an innovative 4-2-4-0 lineup without a centre-forward.
"The idea seemed to be to bring on Torres towards the end to take advantage of a tired Italian defence," Marca said. "The only thing that went wrong was that Torres missed all three of his chances."
As spoke of "A Draw Between Two Good Teams" and was full of praise for Cesare Prandelli's Italian side, especially for veterans Di Natale, Andrea Pirlo and Gianluigi Buffon.
AS criticized Del Bosque for including three centre-forwards in his squad — Torres, Fernando Llorente and Alvaro Negredo — then not starting with any of them, saying that it was not a "well thought-out decision" but rather a "last-minute response" to the absence of injured striker David Villa.
"It's no use having Xavi, (Andres) Iniesta and Fabregas knocking the ball around if they do not create danger in Buffon's area," AS quoted Real Madrid coach Jose Mourinho, who was present in Gdansk, as saying.
"There was a great effort from the midfielders but this was rather sterile because of the lack of a forward."
The Spanish newspapers were in agreement about the poor condition of the pitch in Gdansk, with Catalan daily Sport calling it "dry, uneven and fragile."
With regards to the situation in Group C — in which Croatia are top after beating Ireland 3-1 — there is a consensus in Spain that the world champions now have no choice but to beat Ireland on Thursday.
"Thursday's game has to be a win," said radio station Cadena COPE. "Otherwise it will be a tense situation on the last day (June 18), with Spain needing to beat Croatia but also needing to depend on the result of the Italy-Ireland match."