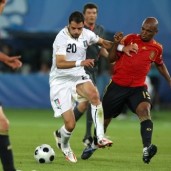 The first duel within Group C will be the encounter of the current European and World Champions with the team of Italy.
The Spaniards started their last great tournament with defeat 0:1 against Switzerland in the first match in their group. During the tournament they mostly did not charm their fans with their play, but they managed to win the Champion's title.
Although the Spaniards are expected to repeat their success from four years ago, many football experts think that the best times of that team are already over. An important test will be their duel with world champions from 2006.
After their last defeat at the tournament in South Africa, this time Italians are ambitious to achieve a much better result. Apart from Andrea Pirlo and Gianluigi Buffon, the team's leader will be the controversial Mario Balotelli, responsible for the team's scoring output at the championships.
It seems that Spaniards should get over Squadra Azzurra after all and that the party of Vicente del Bosque will earn 3 points in their first group match.
Bet: Spain will win.
Spain – Italy Betting Odds
| | | | | | | |
| --- | --- | --- | --- | --- | --- | --- |
| Spain win | 1.80 | 1.73 | 1.72 | 1.80 | 1.75 | 1.75 |
| Draw | 3.25 | 3.25 | 3.50 | 3.50 | 3.50 | 3.40 |
| Italy win | 5.00 | 4.20 | 4.50 | 4.80 | 5.00 | 4.80 |
| Sign up bonus | freebet 100£ | freebet 25£ | bonus 20€ | bonus 30€ | freebet 60£ | bonus 50£ |
Group C
Our bet: Spain win
Match: Spain v Italy
Stadium: PGE Arena Gdansk, Gdansk
Time/Date: 19:00 10th June 2012