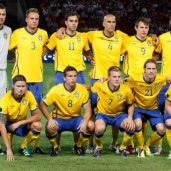 The management of the national team of Sweden began on Friday a scrutinized planning of every day of the coming championships. Preparations include even participations in the finals, which will take pales on July 1 in Kiev.
"We will plan in smallest details each of our 38 days of the championships, starting from 24 May, when the team will start grouping until the finals. The fact is that we play in group matches in Kiev and there will also be a decisive match of the tournament. This is very important because the hotel which will be our base has been pre-booked until the finals"- said Lasse Ricxht, team manager.
Activists of the Swedish federation (SvFF) and the entire management of the team flew to Kiev on Friday. They will stay in the same rooms of the "Platinum" hotel, which will be the Sweden base during the championships. All details will be described and the hotel, training field and the Olympic Stadium will be photographed in every detail.
"The first match will be played in 94 days and, therefore it is a very important journey. The event has such importance for us that we can not overlook the smallest detail. We will be well-prepared for all situations that will happen during the championships. There will not be place for improvisation"- said Richt.
As he pointed out before leaving to Kiev, each player and staff member will have a detailed visualization of the places in which they will be.
Sweden will play in Group D and the first match with Ukraine will be held on June 11. On June 15 Sweden will play with England and four days later with France.