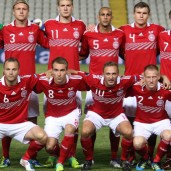 The Olsen Gang, as the representation of Denmark is nicknamed in football, will play the European Championship for the eighth time. Danes did not participate at the last event, at which they used to play continuously since 1984, even winning it in 1992 with a sensational defeat of the Germans.
The Danes unexpectedly won in their elimination group, leaving the Portuguese and the Norwegians behind. In eight games they scored 19 points and were defeated only once. The star of the Morten Olsen's team, who has been the coach of the Danes since 2000, will be Niclas Bendtner, the pupil of Arsenal London and now the player of Sunderland. In winning the goals he will be helped by an experienced John Carew. In addition, the Danish fans can count on Dennis Rommedhal and Thomas Kahlenberg.
Denmark will play their meetings in the Ukraine. It has to be admitted that the Danish Dynamite had no luck in the draw. In their group their rivals will be the Dutch, Germans and the Portuguese. Despite the aspirations and the form, it has to be objectively stated, that Denmark does not have much chance to get out of the group. Even another success of the elimination and winning against Portugal will not guarantee that the team will participate in the quarterfinal game and it will be extremely hard to get the points in clashes with the two main favourites of the tournament.
Denmark Euro 2012 Squad
Goalkeepers: Thomas Sørensen (Stoke City), Stephan Andersen (Évian).
Defenders: Lars Jacobsen (FC København), Daniel Wass (Évian), Daniel Agger (Liverpool), Simon Kjær (AS Roma), Andreas Bjelland (FC Nordsjælland), Simon Poulsen (AZ Alkmaar).
Midfielders: Christian Poulsen (Évian), Jakob Poulsen (FC Midtjylland), William Kvist (FC Nürnberg), Niki Zimling (Club Brugge), Thomas Kahlenberg (Évian), Christian Eriksen (Ajax), Michael Silberbauer (BSC Young Boys), Lasse Schøne (NEC Nijmegen).
Forwards: Dennis Rommedahl (Brøndby), Nicklas Bendtner (Sunderland), Michael Krohn-Dehli (Brøndby), Tobias Mikkelsen (FC Nordsjælland).
Denmark Euro 2012 Group Matches
Saturday, June 9, 2012 Holland v Denmark (18:00 CET in Kharkiv)
Wednesday, June 13, 2012 Denmark v Portugal (18:00 CET in Lviv)
Sunday, June 17, 2012 Denmark v Germany (20:45 CET in Lviv)
Denmark Quick Facts
Best World Cup Result: Quarter-Finals (1998)
Best European Championship Result: Winners (1992)
Record Scorer: Poul Nielsen & Jon Dahl Tomasson (52 goals)
Most Capped Player: Peter Schmeichel (129 caps between 1987 and 2001)
Coach: Morten Olsen
Captain: Daniel Agger
Denmark news