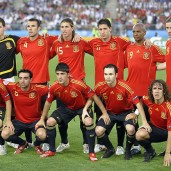 The representation of Spain, defending the title of a champion, the absolute number one favourite and leader in the FIFA rankings, two-time winner of the European Championship in 1964 and 2008, will compete to win the most valuable trophy in Europe for the ninth time.
Spain easily and expectedly advanced to the Euro 2012, winning all eight games and losing only six goals. Spain's top scorer turned to be David Villa. The author of seven goals along with Fernando Torres will be the team's main force in the attack. Additionally, the coach Vicente Del Bosque has an extraordinary group of stars to help him. Andres Iniesta, Xavi, Cesc Fabregas, Xabi Alonso, David Silva, and Juan Mata, it is they who will be responsible for play the balls to the two attackers. In the goalpost the undisputed number one goalkeeper of Real Madrid is Iker Cassilas, who will conduct the defence made up of the Barca and the Royal players. Albiol, Pique, Ramos, Arbeloa and Puyol will ensure the least number of the lost goals.
The current World and European Champions in the group stage will play with the teams of Italy, Croatia and Ireland. All matches will be played on the filed of PGE Arena in Gdańsk. All the Spanish fans and the players are counting on the final event at least. Falling out of the competition at an earlier stage will be a very big surprise unless we are witnesses of a premature final between Spain and the Netherlands or Germany.
Spain Euro 2012 Squad
Goalkeepers: Iker Casillas (Real Madryt), Pepe Reina (Liverpool), Victor Valdes (FC Barcelona);
Defenders: Raul Albiol (Real Madryt), Jordi Alba (Valencia), Alvaro Arbeloa (Real Madryt), Sergio Ramos (Real Madryt), Juanfran Torres (Atletico Madryt), Gerard Pique (FC Barcelona), Javi Martinez (Athletic Bilbao);
Midfielders: Sergio Busquets (FC Barcelona), Xavi Hernandez (FC Barcelona), Andres Iniesta (FC Barcelona) Xabi Alonso (Real Madryt), Santi Cazorla (Malaga), Francesc "Cesc" Fabregas (FC Barcelona) David Silva (Manchester City) Jesus Navas (Sevilla), Juan Mata (Chelsea);
Forwards: Pedro Rodriguez (FC Barcelona), Alvaro Negredo (Sevilla), Fernando Torres (Chelsea), Fernando Llorente (Athletic Bilbao)
Spain Group Matches
Sunday, June 10, 2012 Spain v Italy (18:00 CET in Gdansk)
Thursday, June 14, 2012 Spain v Republic of Ireland (20:45 CET in Gdansk)
Monday, June 18, 2012 Croatia v Spain (20:45 CET in Gdansk)
Spain Quick Facts
Best World Cup Result: Winners (2010)
Best European Championship Result: Winners (1964 and 2008)
Record Scorer: David Villa (51 goals from 2005 to present)
Most Capped Player: Iker Casillas (129 caps from 2000 to present)
Coach: Vicente Del Bosque
Captain: Iker Casillas
Spain news