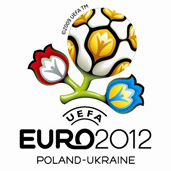 Not everyone liked the UEFA's decision of leaving the organization of the European football championships in 2012 for Poland and Ukraine.
The Germans had the most grudges, but this shouldn't came as a surprise to anybody as it's widely known that our western neighbors wanted to take over the event most.
According to the daily "Die Welt", UEFA president Michel Platini gave Poland and Ukraine "a yellow card and a warning" but he is endangered himself by "a red card" and the European Championships are endangered by a fiasco.
In the daily we read that Platini is acting according to the "rules of his sports and political games." "The clever Frenchman built his image as a defender of weak. And thanks to their votes he is at the head of the UEFA (…) He reciprocated with granting them the organization of the European Championships and increasing the number of teams participating in the finals of the European Championships from 16 to 24," the German newspaper judges.
The daily "Allgemeine Zeitung Wiener" emphasizes that on Friday UEFA decided to continue the "adventure" in the name of "Go East". As he writes the organization of the football World Championships in 2010 by the Republic of South Africa is a similar adventure.
"Poland can still provide its part of the project of Euro 2012 with a firm footing despite the internal problems with corruption and hooligans. But in the Ukraine almost everything is missing at the moment," "FAZ" assesses.
The UEFA lost a lot of it's trust in Poland.
The spokesman of the UEFA, William Gaillard declared, that Poland won't loose the right to organise the European Championships in 2012. That is a reaction to the agreement between the Polish government and PZPN thanks to which the temporary probation officer of the association Robert Zawłocki will be dismissed.
An adviser to the President of the UEFA Michel Platini added that the conflict around the PZPN has weakened the relations between the Polish authority and the European Football Union.
"As a matter of fact we will have an eye on the situation in Poland just like FIFA," says Gaillard, "now there is no threat of taking the right to organize the Euro 2012 away from Poland. Yet I am not concealing that the UEFA lost a lot of it's trust in Poland. Therefore it will be carefully observing whether the concluded agreement is being obeyed."