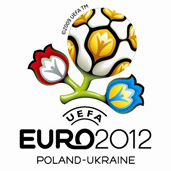 The Municipal Stadium in Poznan in Bulgarska Street was built and was put into use in 1980. Lech Poznan plays their matches on this stadium.
Because of the European Football Championships the conversion of stadium is planned and this allows among others to enlarge its capacity almost twice (to 44 thousand seats). A car park for about 4000 parking spots and training field will be built. According to schemes of city authorities modernization is expected to finish in 2008. The cost of this investment is estimated at about 200 mln zlotys.
During the European Football Championships some group matches are expected to be played.
Below you can see graphic symbols of the Municipal Stadium in Poznan after finishing conversion.
The object in Poznan is the most advanced, as regards workmanship, the stadium which is suggested on the basic list of the Polish stadiums which will play host to footballers during the European championships in 2012.