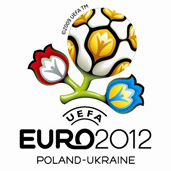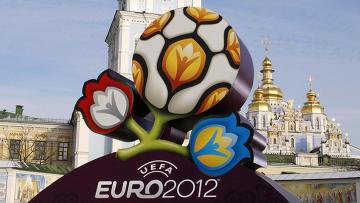 The official logo, visual identity and slogan for UEFA EURO 2012™ have been unveiled at a special event in Kyiv's Mykhailivska Square with co-hosts Ukraine and Poland looking forward to 'Creating History Together'.
Star guests
Polish Football Association President Grzegorz Lato, his Football Federation of Ukraine counterpart Grigoriy Surkis and UEFA President Michel Platini officially unwrapped the logo as the highlight of the launch proceedings. The ceremony was attended by the President of Ukraine, Viktor Yushchenko, and Prime Minister Yulia Tymoshenko, representatives from the eight host cities – Gdansk, Warsaw, Poznan, Wroclaw, Lviv, Kharkiv, Donetsk and Kyiv – and numerous other dignitaries.
Visual identity
The purpose of the logo is to give UEFA EURO 2012™ a personality of its own, with the visual identity to be applied across a range of promotional applications from tickets to web banners. The objective is to help promote the tournament – one of the world's biggest sporting events – by providing an easily recognisable identity with a flavour of the host nations. The logo takes its visual lead from 'wycinanka', the traditional art of paper cutting practised in rural areas of Poland and Ukraine, as a tribute to the fauna and flora of the region.
EURO bloom
The 'bloom' logo has a flower representing each of the co-host nations and a central ball symbolising the emotion and passion of the competition, while the stem denotes the structural aspect of the competition, UEFA and European football. Nature has inspired other features of the visual identity, with woodland green, sun yellow, aqua blue, sky blue and blackberry purple being the crucial tones of the palette of colours to figure in official tournament branding.
Uniting ethos
The event slogan, meanwhile, is 'Creating History Together'. The staging of the UEFA European Championship finals in Poland and Ukraine, a first for Central and Eastern Europe, will have a place in the history books, with everyone involved in UEFA EURO 2012™ – organisers, host countries, host cities, players and fans – contributing to another exciting chapter of European football.
source: UEFA