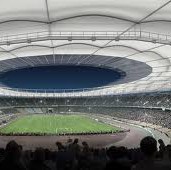 In 2012, the completely redesigned National Sports Centre "Olympijski" in Kiev should earn 110 million hryvnias – believed Viktor Kolesnikov, the Minister of Infrastructure and Ukrainian Deputy Prime Minister responsible for preparations for the European football championships and.
The plans for the commercial use of the main stadium for the Euro 2012 were announced during the stay of Kolesnikov in Kharkov, where he participated in the opening of "Shakhtar Plaza". The high-class hotel, located near the football stadium, serves as accommodation for the guests of the EURO2012.
According to our estimates, expenditures on the maintenance of the stadium will amount to about 120-125 million hryvnias (about 47-49 million PLN). 'In the next year we plan to receive revenue in the amount of 110 million hryvnias, which is about 10 percent less. In 2 years the revenue should fully cover the costs' – said Kolesnikov.
The opening ceremony of the modernized stadium in Kiev was held on 8 October and the first football match will take place on November 11. The football match will be played between Ukraine and Germany.