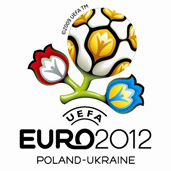 Ukrainian paper "Gazeta 24" alarms: Poland wants to take the Ukrainian part of Euro!
UEFA does not believe Ukraine can succeed. Poland gets ready for organizing the EURO 2012 final match, says the news.ru portal, referring to the article in "Gazeta Wyborcza", "Więcej Euro a Polsce, a nawet całe?" (more Euro in Poland, maybe whole?). We informed there that UEFA considers organizing two and not three matches of three groups, both semifinals and final in Poland, not in Kiev.
Even Hryhorij Surkis, chief of Ukrainian Football Association, who rarely comments such news, took the floor: "I talked with Michal Listkiewicz about this fact – said Surkis to the portal "Gazeta 24" – We both claim to play in one team. What the journalists do is putting a spoke in wheel of ours. We have already lost enough of time.
As far as the chief of Ukrainian federation is concerned, it is Ukraine where two stadiums in Dniepropietrovsk and Donieck are almost finished. What Poland can do is only to dream about so advanced preparations – he said.
Surkis commented also the statement of Polish sport's minister – Miroslaw Drzewiecki – who claimed Poland to be prepared to welcome the majority of matches during Euro 2012. I do hope that such a serious man does not dream, only what he said was somehow changed by the journalists.
"Radio Swoboda" referred to the article from "Gazeta Wyborcza" as well. It reminded also that what worries UEFA the most is the level of Ukrainian infrastructure – above all lack of airports and hotels. What can cause moving some of the matches to Poland is neglecting building of these facilities.
Surkis said in "Radio Swoboda" that if the finals are to be moved to Warsaw by UEFA, the organization of the championships will be senseless.
PZPN reacted to the news og Gazeta – it disowns the fact that Poland would like to organize EURO without Ukraine. "Euro 2012 has to organized according to the schedule which was accepted by UEFA. Polish and Ukrainian football associations cooperate in harmony and offer help to each other, yet unfounded speculations can ruin this partnership. Both Poland and Ukraine are to organize EURO 2012, which is a great success for both countries" – this is what one can read on the website of PZPN.