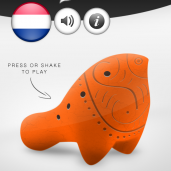 Zozulica app lets fans cheer with their phones during the Euro 2012 Soccer Championship.
Remember the Vuvuzela? Meet it's sister, the Zozulica. A traditional Ukrainian flute that will be this years noisemaker in the stadiums. And of course there's an app for that.
The Zozulica is a little clay whistle, shaped like a cuckoo. As we speak, the unofficial mascot is being produced in large quantities by factories in Ukraine and Poland. For those that wish to save their breath or don't want to carry around a flute in their pocket, there is now a free app that produces the Zozulica sound for you.
Simply pick your national team and favorite melody and let your iPhone play the Zozulica. A quick and easy way to cheer on your team during Euro Soccer championship 2012. (Or to annoy your friends)
The Zozulica app is a free download in the Appstore. Available for iPhone & iPad.