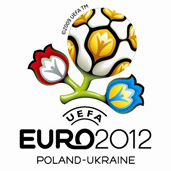 "The delays in construction have been made up, and the reconstruction of the stadium in Kiev, together with adapting it to the requirements of EURO 2012, sticks to the schedule that was agreed on with UEFA.", said the Minister of Sport in Ukraine, Rawil Safiullin, after he visited the stadium.
Safiullin during his visit to the Olympic Stadium was accompanied by Wasilij Mozar, the chief of "Kijewgorstroj" company, which is the general contractor for the reconstruction.
Mozar ensured that there are no more arrears towards the subcontractors and the construction workers. "Last week we received funds, we paid for the work that was done during last months, we bought all necessary supplies, and the work is being done according to the schedule. There are no problems.", said Mozar during his meeting with the Minister of Sport.
As Mozar added, the construction workers used the amount of 560 million hryvnyas (about 47 million GBP), and the amount of 240 million hryvnyas (about 20 million GBP) is still to be spent till the end of 2010.
Rawil Safiullin was pleased to confirm the information by the general contractor for the reconstruction that the delays of the reconstruction of the stadium have been made up. For the last weeks the progress of construction of all sports facilities, which are sponsored by the Budget, have been monitored by the state agency that was set up for this occasion. Even though, the Ministry of Sport is still observing the work in the national sports centre in the capital city.
The current Minister of Sport is familiar with the problems which are the effects of reconstruction, as he was the chairman of construction of "the Olympic" sports centre. He drew attention to the alarming delays in construction of the stadium in Kiev and changing it to the sport facility of the "elite" category.