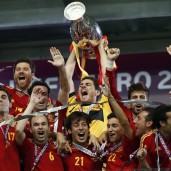 Euro 2012 has only just finished, with Spain running out as champions for the second time in a row.
Already there has been some talk of the Iberians running out in 2016 in search of an unprecedented third title in a row, though there is the 2014 World Cup to look forward to before then.
Plenty of the current crop will likely be out of the international picture by then. But, Spain have a new generation already staking their claim for a place in the side who will likely be old hands in the starting 11 by 2016.
Here are the top eight candidates for the Euro 2016 crown.
Germany have a set of prodigious young talent rising through their ranks at present. Belgium should go on and qualify for World Cup 2014 with their current crop of players, but they could really have a chance of going far – even challenging to win – in Euro 2016. England dispense with the services of Roy Hodgson and finally bring in a progressive, ambitious, young manager who will utilise the creative and attacking talent at his disposal. Bookmakers alredy sets the odds for winning Euro 2012 so you should be up to date with Sports betting news.
There is a shortage of style and real quality about Greece compared to other sides, but they have their way of playing and achieve results with it. Several others key players will still be in their prime – Fabio Coentrao, Joao Moutinho, Nani and Rui Patricio will all be 28 or 29 years old – whilst Cristiano Ronaldo, while he will be the wrong side of 30 in 2016, will still have the athleticism to compete at the highest level.