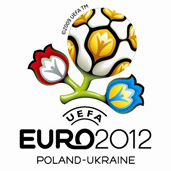 A group of twenty UEFA experts visited on Thursday the construction site of the stadium in Wroclaw for Euro 2012. They were mainly interested in the issue of handling business guests of UEFA and the media.
Experts have suggested that during the tournament in the eastern grandstand of the facility there should be an additional area for business partners of the soccer federation – informed Magdalena Malara, Wroclaw 2010 Company's spokeswoman.
The representatives of UEFA also checked how the stadium will be prepared for the media, including places of broadcasting vans and cable infrastructure – added Malara.
During the visit, the experts were accompanied by representatives of a catering company, cooperating with UEFA. The spokeswoman admitted that they were interested in how stalls for fans and places in a business club will be prepared for the tournament.
The Stadium in Wrocław is to accommodate nearly 42,000 soccer fans. It will be a multifunctional facility which will also be used for the purpose of organizing concerts. Under the grandstands there are four separate buildings, in which the largest fitness club, casino, disco as well as conference rooms and offices in Wroclaw will be built.