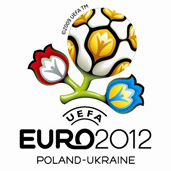 Preparations for the Euro 2012 football tournament in Poland and Ukraine are well on track, the ruling body UEFA said on Friday with nine days left until the qualifying group draw.
The February 7 draw in Warsaw is the first big event around the tournament which created various problems in the early stages after the two Eastern European nations were elected hosts in 2007.
'Preparations for Euro 2012 are going well,' UEFA general secretary Gianni Infantino told the body's website after an executive board meeting on Thursday in Malta.
'We are well on track. The draw is the kick-off for a Euro which will take place in central and eastern Europe – we are all convinced that it will be a fantastic Euro, and we are all working hard towards that.'
Infantino also said that the UEFA will announce the host nation for the Euro 2016 event on May 28 at a meeting in Geneva. France, Turkey and Italy are the current bidders, who have to present their documents by February 15.
Euro 2016 will see increase from the current 16 team to 24 while it remains to be seen whether it will also see additional assistant referees on the goalline.
But UEFA said it will extend this experiment in the Europa League competition until the May 12 final in Hamburg after the two extra officials were present in the 144 group stage games.
'We will continue up to the final in Hamburg in May. The first feedback from those who are playing – the players, the coaches – is broadly positive,' said Infantino.
However, he added that 'the future regarding this experiment is in the hands of the International Football Association Board, and also of course in the hands of (the world governing body) FIFA, which has given permission for these tests.'
Read more: http://www.monstersandcritics.com/sport/soccer/article_1529609.php/UEFA-happy-with-Euro-2012-progress-extends-goalline-officiating#ixzz0ePl9aSB2