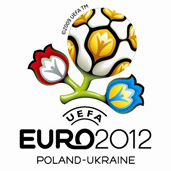 UEFA officials on Saturday brushed off the latest speculation about Euro 2012, denying that Spain had been approached as a possible replacement host if infrastructure problems persisted with Poland and Ukraine.
The co-hosts face huge challenges in upgrading road and rail links, along with modernising airports and building hotels. Concerns have grown in particular over delays in the reconstruction of Kiev's Olympic stadium.
In January, UEFA president Michel Platini said the next few months would be "crucial in order to avoid any critical slippage in sports and public infrastructure projects and to protect the global credibility of the Euro project."
The Kiev stadium issue could lead to Ukraine losing the right to co-host the tournament, a senior Ukrainian soccer federation official was quoted as telling a newspaper on Thursday.
A report in Spanish newspaper ABC on Saturday said that in the course of regular meetings, Platini had asked Spanish federation officials whether they would be able to step in as replacement hosts.
"I know absolutely nothing about such a meeting," UEFA director of communications William Gaillard told a news conference on Saturday.
"There are a lot of stories going around about Euro 2012 and, as we have said before, we will be dealing with the issue in July with the visit of our president.
"Anything you hear before that is devoid of reality."
ABC said Spanish Federation president Angel Maria Villar had told Platini that Spain would be able to step in at short notice, though he also said he remained confident that Poland and Ukraine would remain as hosts.
Scotland, who failed with a joint bid with Ireland to host Euro 2008, have said they would be willing to step in.
Italy, who along with a joint Croatia-Hungary bid were beaten by the Poland-Ukraine bid, have also been tipped as a potential alternative hosts.