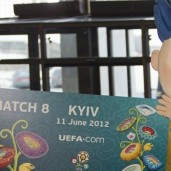 UEFA has started taking ticket applications for 2012 European Championship matches from fans of the 16 competing countries. UEFA to make 450 thousand more Euro 2012 tickets available
Europe's top governing body is making an additional 450,000 tickets available on Dec. 12 for next year's Euro 2012 taking place in Ukraine and Poland.
Sales of tickets are reserved for fans of each of the national football associations participating in the 16-nation tournament, Ukraine's Euro 2012 infromation center announced on Dec. 7
UEFA says it will sell at least 6,000 seats to fans of each team at each of the 24 group-stage matches.
Tickets cost €40-€160 for group matches. Fans living in co-host nations Poland and Ukraine get cheaper prices in local currency.
UEFA will distribute tickets by lottery after applications via its www.uefa.com website close on Feb. 29.
A further 1,000 tickets for each Euro 2012 match are available in travel package deals.
UEFA says fans will receive 85 percent of the tournament's 1.4 million tickets.
A first sales phase already allocated 500,000 seats.
Euro 2012 is played June 8-July 1.