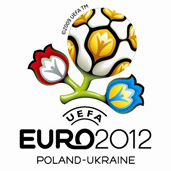 Despite ongoing stadium and infrastructure delays, UEFA president Michel Platini says he believes Poland and Ukraine will deliver on their promises to stage a successful Euro 2012 tournament.
The Frenchman told delegates at the UEFA Congress in Paris this week that organising the championships had been a tough challenge since the two east European nations were awarded the competition in April 2007.
"Poland and Ukraine has not been easy," he said in something of an understatement.
"With Ukraine we have had some problems but our obligation is to help them to make sure we have a successful tournament."
"It is not easy, it has been a bit painful from the very start," Platini admitted.
"It's a challenge but we will successfully negotiate it."
The pace of construction work on Kiev's Olympic Stadium, venue for the final, remains the major worry, despite the best efforts of Ukraine's president Viktor Yanukovych to play down the problems on a visit to the stadium last Friday.
The first match to be played at the 69,000-seat stadium is set for September or October and will involve Dynamo Kiev in Europa League or Champions League match. But that could yet be an ambitious target.
Lviv's new stadium is also on a tight construction timetable.
A serious shortage of private investment has led to delays in the massive Kiev revamp and building of the Lviv project.
The total cost of Ukraine's Euro 2012 preparations is estimated at up to $60 billion.
In Poland, the 43,600-capacity Gdansk stadium was delayed by several months due to the country's harsh winter but is expected to open at the end of April.
The deadline for ticket sales applications for the tournament ends next week.
A total of 31 matches will be played at the 16-nation tournament, which takes place in eight cities across Poland and Ukraine between June 8 and July 1 next year.