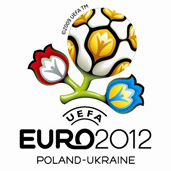 Ukrainian Prime Minister Yulia Tymoshenko and her Polish counterpart Donald Tusk on Friday promised their countries would co-host the European football championship in 2012 successfully.
Tymoshenko and Tusk made the remarks after the two sides signed an intergovernmental agreement on cooperation in organizing and holding of the 2012 football championship.
"I hope that the agreement we have just singed will change the opinion of UEFA head Michel Platini regarding the quality of preparations for Euro 2012," Tymoshenko told reporters at a joint news conference with Tusk.
Tusk supported Tymoshenko's confidence.
"I am one hundred percent sure that we will succeed in co-hosting Euro 2012 football championship," Tusk said.
Some senior UEFA officials in recent months had expressed worries at the slowness of Polish and Ukrainian preparations for the event, and even hinted that the championship might be taken away from them, if work were not speeded up.