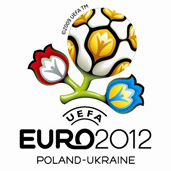 Ukraine's preparations to co-host the European Football Championship in 2012 have fallen badly behind schedule.
Uefa, Europe's football governing body, has given the country until 30 November to show significant improvement, or face losing most of the matches to the co-hosts, Poland.
In the eastern city of Donetsk, people are riding high on a tide of football fever.
In May their team, Shakhtar, won the Uefa cup. Thousands came out onto the streets to celebrate and welcome the players home.
The crowd seemed oblivious to the brooding presence of a massive bronze Lenin watching over the proceedings – a reminder of Ukraine's Soviet past.
But then Lenin too looked unmoved, almost as if he knew that the party could soon be over.
Elusive investors
Shakhtar is building a state-of-the-art new stadium in Donetsk, with a capacity of 50,000.
It is due to open at the end of August, and when it does, it will be the most technologically advanced in the country.
But the new Donbass Arena may never host a match in Euro 2012. Not because there is anything wrong with the stadium itself, but because the other infrastructure simply is not there – the airports, the highways and the hotels.
Ukraine must improve before 2012
Alexander Rotov is the president of Gerc, one of Ukraine's leading construction companies.
He has plans to build a new four-star hotel in Donetsk, in time for the competition.
He has got the land, he got the planning permission. But he is having trouble financing the project.
We have a letter of support from the government to the European Bank for Reconstruction and Development, the EBRD," he says. "But the EBRD say they will only invest money if there are already Ukrainian investors on board."
And Ukrainian investors are proving hard to find, even though the amount of money is relatively small – $30m (£18m).
Mr Rotov blames the economic crisis, which has hit Ukraine hard.
The country's banking system is under heavy strain, and even those lenders which are not on the brink of collapse are being very cautious with their funds.
And then there are the roads.
Crumbling infrastructure
The 19th Century satirist, Nikolai Gogol, once said that Russia was a country of "fools and bad roads".
Gogol was a Ukrainian (though he wrote in Russian) and Ukraine was at that time part of the Russian Empire.
The second half of his blunt assessment certainly applies today to many of Ukraine's highways, which are crumbling and littered with potholes.
The country's transport infrastructure is in need of massive investment before it can cope with bus-loads of European football fans, let alone coaches full of footballers and their Wives-and-Girlfriends (WAGs.)
In the capital, Kiev, things only get worse.
Twice a day, the main artery from the airport into town turns itself into a vast traffic jam.
Like a metaphor for Ukraine's preparations for the tournament as a whole, it is paralysed by a combination of economic crisis, political instability, and endemic corruption.
Political interference
Andrei Kapustin is an investigative journalist who runs a website dedicated to tracking Ukraine's preparations for Euro 2012.
"As soon as it was announced that Ukraine was due to host the competition," he says, "local officials reached for their giant calculators to work out how they could get their hands on this money."
But with a presidential election due before the end of January, Andrei Kapustin says that politics is getting in the way.
There are vast sums of money involved, and important contracts up for grabs to renovate airports, stadiums and other infrastructure.
"The whole process is far too politicised. Because in Ukraine, all top managers are also political figures and Euro 2012 has become a political battleground."
The Ukrainian authorities agree they are playing for high stakes.
"Euro 2012, for the Ukrainian people, is not only a football event," Deputy Prime Minister Ivan Vasiukyk says.
Mr Vasiunyk is specifically responsible for Ukraine's preparations to host the competition.
"It's the biggest political and social project in the 18-year history of independent Ukraine," he adds. "It is one of the very practical steps for integrating Ukraine into the European community."
"If we will prepare to the highest standard, it means that we are equal partners, and Ukraine, like Poland, is a European country."
Delays
When Ukraine and Poland's joint bid to host the competition was declared the winner in Cardiff in 2007, the plan was that matches would be played in four cities in each country.
Kiev's Olympic stadium is undergoing a programme of expansion and renovation that has been beset by delays and disagreements over planning permission and land ownership.
But after its latest assessment in May, Uefa said that so far, only Kiev was on track to host any matches at all.
If things stay that way, it will mean more than just a massive embarrassment for the Ukrainian authorities.
Nearby are two football pitches attached to a football academy, where kids hone their ball-skills.
Progress in Ukraine's preparations for the competition over the next few months will have a direct impact not only on these children's future sports facilities, but also on the kind of country in which they grow up.
Are you in Ukraine? Do you think the country will be able to complete its preparations for Euro 2012 in time? Do you think it is worth it, or is it proving too costly? How important is the event to Ukraine? Send us your comments using the form below.
source: bbc