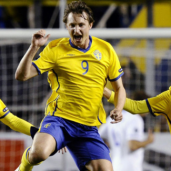 In the second match in Group D, Ukraine, the co-host of European Championships will play in the stadium in Kiev against the Swedish team.
It is both Poles and Ukrainian ambition to advance from their group. Although Ukraine is one of the strong teams, they will have to measure their strength with much more stronger rivals than our national team.
Their first challenge will be the team of Sweden and their leader Zlatan Ibrahimovic will surely want them to achieve a major success. According to bookmakers, Ukraine has a slight better chance to win this match. In our opinion Ukrainians prepared themselves very well to the tournament and are able to win some points in their group.
Will it be enough to advance from the group? We will convince ourselves soon of it. Nevertheless, while betting on that duel, we recommend being careful.
Our bet: Ukraine will win.
Ukraine – Sweden Betting Odds
| | | | | | | |
| --- | --- | --- | --- | --- | --- | --- |
| Ukraine win | 2.30 | 2.30 | 2.35 | 2.35 | 2.37 | 2.25 |
| Draw | 3.25 | 3.10 | 3.20 | 3.25 | 3.20 | 3.15 |
| Sweden win | 3.10 | 2.75 | 3.20 | 3.15 | 3.10 | 3.20 |
| Sign up bonus | freebet 200£ | freebet 25£ | bonus 20€ | bonus 30€ | freebet 60£ | bonus 50£ |
Group C
Our bet: Ukraine will win
Match: Ukraine v Sweden
Stadium: Olympic Stadium, Kyiv
Time/Date: 20:45 11th June 2012