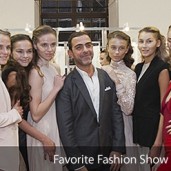 The aim of the Project EuroFashion is to invite to Ukraine the best designers-representatives of 16 countries which will take part in the UEFA EURO 2012 Championship.
On March 19-20, 2012, sixteen Fashion Ambassadors will present their new collections to Ukraine and its visitors. We have invited to our Project not only designers and journalists, but also members of football, public and charity associations, sportsmen, diplomats, and other renowned persons.
Hundreds of journalists will cover this Project; about a thousand of press releases will be distributed. After the Project its participants will return to their countries to give dozens of
interviews about the Project and Ukraine in general.
We will unite Fashion and Football!
Ukrainian Fashion Week, celebrating in March its 30th Anniversary (which means already the 15th year of its existence) will become the initiator of Project EuroFashion.
Ukrainian Fashion Week, founded in 1997, is one of the most innovative and talent-oriented fashion weeks of the fashion catwalk calendars. Adjectives "refreshing" and "sparkling" are just two synonyms for the Ukrainian Fashion Week.
Ukrainian Fashion Week Achievements:
29 consecutive Fashion Weeks.
Over 1'000 international and national designers.
More than 700'000 visitors
Hundreds of international and national media resources: TV, print press and internet reporting about the great designers, the wonderful models, the VIPs including Paris Hilton, Adriana Karembeu, Jean-Claude Van Damme, Supermodel Dji Dieng, Karolina Kurkova and many others.
See more at www.fashionweek.com.ua/en.