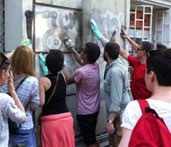 Warsaw's inhabitants stood in solidarity with their African neighbours who were targeted by racists.
The 'NEVER AGAIN' Association, together with Projekt: Polska, organized a civic action to show solidarity and paint over large racist graffiti that appeared by the entrances of the African restaurant La Mama and a nearby African shop. Both sites are located in the Muranow district, known as the area of the Warsaw Jewish Ghetto during the Nazi occupation, and they are near the Polonia Warsaw football ground.
The La Mama restaurant is a key meeting point for the African community in Warsaw and it has hosted anti-racism educational activities co-organized with the 'NEVER AGAIN' Association, such as the special multi-cultural event on the final of the African Cup of Nations in February 2013.
The graffiti at both sites included racist text and an image of a man on the gallows. The 'NEVER AGAIN' action was organized within hours after the racist graffiti was discovered on 19 June and it brought together several hundred participants mobilized through Facebook. It drew positive coverage in the media, too. The Mayor of Warsaw, Hanna Gronkiewicz-Waltz endorsed the initiative on her own Facebook page saying 'I am happy you have gathered to remove the racist inscriptions through collective action. Warsaw is an open city and there must be no place for any expression of racism! I have instructed the Warsaw City Police to pay particular attention to any such acts of discrimination.'
The incident took place against the background of a series of hate crimes that occurred in several Polish regions in the recent weeks. Anti-racism experts attribute the rise in hate crime to an increased street presence of the newly formed far-right Nationalist Movement which has drawn its strength from the racist football hooligan subculture across Poland. The Polish government has asked 'NEVER AGAIN' to join its new task force for monitoring hate crimes.
The recent tendencies in far-right activities were discussed during a study visit of American, British and German organizations monitoring and combatting antisemitism, racism and right-wing extremism, hosted by the 'NEVER AGAIN' Association and the Ebert Foundation in Warsaw on 12-16 June 2013. The visitors included high-level representatives of the Southern Poverty Law Centre, the Anti-Defamation League, the Simon Wiesenthal Centre, New York Police Department, and the Community Security Trust.
The 'NEVER AGAIN' Association is an independent educational and monitoring organization established in Poland in 1996. In 2009, in cooperation with UEFA and the FARE network 'NEVER AGAIN' set up the East Europe Monitoring Centre documenting racism and xenophobia across the region. In 2012, it implemented the 'RESPECT Diversity – Football Unites' social responsibility project accompanying the European Football Championships in Poland and Ukraine.