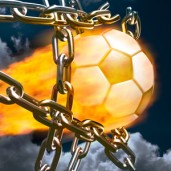 Thanks to the Euro 2012 Adidas wants to be the leader in the market of football clothes in our country. The company will take a lot of marketing and promotional activities.
– Warsaw has changed. Trends from the West are very visible in the city. Your capital city looks like major cities in Europe. Young people look the same and have fashionable clothes – says Herbert Heiner, Adidas Managing Director. Adidas is, of course, number 1 when it comes to soccer in the world and European championships are one of the biggest events. We engage a lot of players to show that we are important. Football is at the heart of our company – Hainer added.
All the fans are waiting for the ball, which will be an official one during the Euro 2012.
– The new ball will be presented in December in Kiev. I can not say what it will look like. We want it to be fast and be better for players. It is associated with new technology. We take patterns from Poland and Ukraine. We want the ball to be associated with host countries. The same situation was on the occasion of Jabulani during the World Cup in South Africa. In addition, many teams in the championship next year will play in our costumes – Hainer said.
– During great events we have other spectacular events. Of course, I do not want to say what it will be. From November we are going to introduce new models of T-shirts for the team. Until the beginning of the Euro 2011 our promotional efforts will be made intensively. Of course we would like to dress up the Polish national team, but we can not do everything. We have five teams from the league, including Legia and Wisla Krakow. We invest in the Polish market but here we focus more on club teams – declares Hainer.
I think that fans will be happy from the organization and our activities. Since December of this year we will be visible. We will start gradation of emotions. In shops there are already clothes referring to the European championships – adds the President of Adidas Poland Artur Czerwonogrodzki.
The German brand is going to depose Nike in Poland.