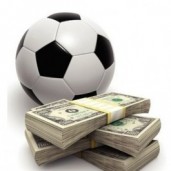 For some people, football betting is just a way to pass the time and see how your favorite team is doing on the grass. This should inform you of the final results from recent matches and include some interesting facts about the game stats, keeping you in shape for any football-specific chats over beer.
For others, however, football betting is more of a skill which, combined with a fairly reliable statistics recount, could easily turn you into an artist in this field. Taking stats into consideration when placing one's bet has been a topic of widely different speculations, which is why it's important to know the basics of the trade. It might actually pay off, for all statisticians know, or do they?
In the past, all that mattered was getting the ball in the opponents' net, and for a long time, that was the only thing football analysts counted. However, as they came to realize that there are many factors which ultimately influence this result, assists came into the counting picture, followed by corners, attempts, passes, interceptions and cards.
For any devoted bettor, keeping track of the lead playmakers in the team is crucial, regardless of your specific interest in statistics. The main players here would most likely include the one that has the highest success rate at scoring goals, accompanied by the one that creates the best opportunities through intricate passes.
There are many statisticians that can get you your daily dose of stat advice, starting from the actual game commentators, all the way through to football stat software which calculates all key moments. However, if you're feeling overwhelmed by the choices, you can simply do it the old-fashioned way and turn a lazy afternoon into a football marathon. Bear in mind that focusing on each game the team has recently played will provide more reliable results. Plus, you're always welcome to check out live football scores and corresponding stats on various sites, and get a feel of their current state while analyzing their history of goals conceded, scored and assisted.
Notwithstanding the importance of scoring an actual goal, the real trick in a football match is actually getting the ball in possession. This, in turn, places other team players in the stats spotlight, as midfielders and backs are the actual artisans when it comes to these situations. Looking out for their interceptions, blocks, clearances, as well as their recovery rate may be crucial to understanding how the team "breathes". For example, a team that has one of the lead goalscorers in the respective league is only as likely to win the match as its opponent, which has a solid strategist.
All in all, you should be able to get a clear preview of a team's success rate and their current form just by looking at these numbers. After all, knowing if they've won or lost the past 10 games which have an average of 5 big chances for scoring per game can ring a bell or two.