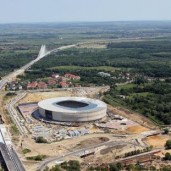 Despite the difficulties, the stadium ready on time. Opening is planned in October.
On 10 September Polish top boxing star Tomasz Adamek will have an unequaled chance to defeat the current WBC World Heavyweight Champion Vitali Klitschko and win for his country the most coveted championship.
On 17 September, George Michael will perform at the Wrocław Stadium. This will be one of the big events honouring the opening of the Arena in Wrocław.


fot. Marek Przybyło